GPTEverything.
AI coming to Duplicate Annihilator and Photos Finder.
Introducing Photos Clicker.
Improvements to Photos Finder.
Photos and People
Introducing Photos Finder.
macOS 13 Ventura feature "Copy Subject" explained.
Photos 8 – how to set up a shared library
Duplicate Annihilator for Photos v8 released
How to search, filter, suggest and "facet" your search in Photos.
How to work with People/faces?
Metadata, what is it and how do I use and edit it?
Introducing Duplicate Annihilator 7.5.0 including fix for iCloud and missing files.
Introducing Duplicate Annihilator v7 including copy metadata from duplicates to originals.
Smart albums for missing people no longer working
Photos 7 and Live Text
Preserve folder and album structure as keywords
Working with Duplicate Annihilator for Photos – part 3
Working with Duplicate Annihilator for Photos – part 2
macOS 10.5 Catalina, Photos 5 and Duplicate Annihilator v4
Working with Duplicate Annihilator for Photos – part 1
Duplicate Annihilator – HEIC format support
What is HEIC?
Hi,
My name is Anders and I'm the CEO of Brattoo Propaganda Software. The Summer has passed, at least for those of us in the northern hemisphere. 2020 has been such strange year, with Covid restrictions and social distancing. Perhaps it is time to talk about sharing photos with friends and family again? Here we go.
Take care and stay safe.
MacOS 11.0 Big Sur, Photos 6 and Duplicate Annihilator and some other improvements
As I mentioned in my last newsletter, Apple is about to release their next major update of macOS named Big Sur, with Big Sur comes Photos 6 . I want to remind you that Duplicate Annihilator for Photos is of course fully compatible with Big Sur and Photos 6. We have also just released Duplicate Annihilator for Photos v5.1.0 which includes a much improved perceptive algorithm, which handles midtone images much better, as well as some other improvements. It is available for download today from https://brattoo.com/#photos
"1 on 1" training sessions!
I've decided to continue with my "1 on 1" training sessions, it is indeed great fun to meet you guys. If you haven't tried it, but feel that it might be something you're interested in, please feel free to email me. The training sessions can be about anything, and will be customised based on your requests. I have over 25 years experience using the Mac platform, I have been an Apple Solution Expert and have held trainings in various softwares over the years. Training sessions are on request by contacting me on: training@brattoo.com.  Each session is 1 hour and costs $79 USD. If you want to learn more about something, email me at training@brattoo.com and we'll work out a program just for you!
New exciting discoveries!
Every now and then I dig deep down into the Photos database and make new discoveries. I believe that I might have found some exciting things that might bring a whole new dimension to organizing, sorting and finding photos. Before giving you anymore details, I'll do some testing. Hopefully I'll have some kind of beta for you to try when I write the next newsletter. Stay tuned!
Sharing photos with friends and family
I have written about family sharing in a previous newsletter, but in a recent "1 on 1" session with Keith from Virgina he mentioned learning more about "Comments" in shared albums. I instantly thought that he meant the photo description, since that is what we normally use when we add a text to photos. Then I realized, "oh, you mean those comments". Besides being able to just share the actual description of photos, they actually have comment threads as well. I was surprised that I have really never encountered anyone who actually uses the comment sharing feature. Comment sharing is actually great. Comments add that extra layer of interaction to shared images.
Here is how shared photo comments work:
when you open a photo in a shared album in Photos there is a small speech bubble icon in the lower left corner of the image.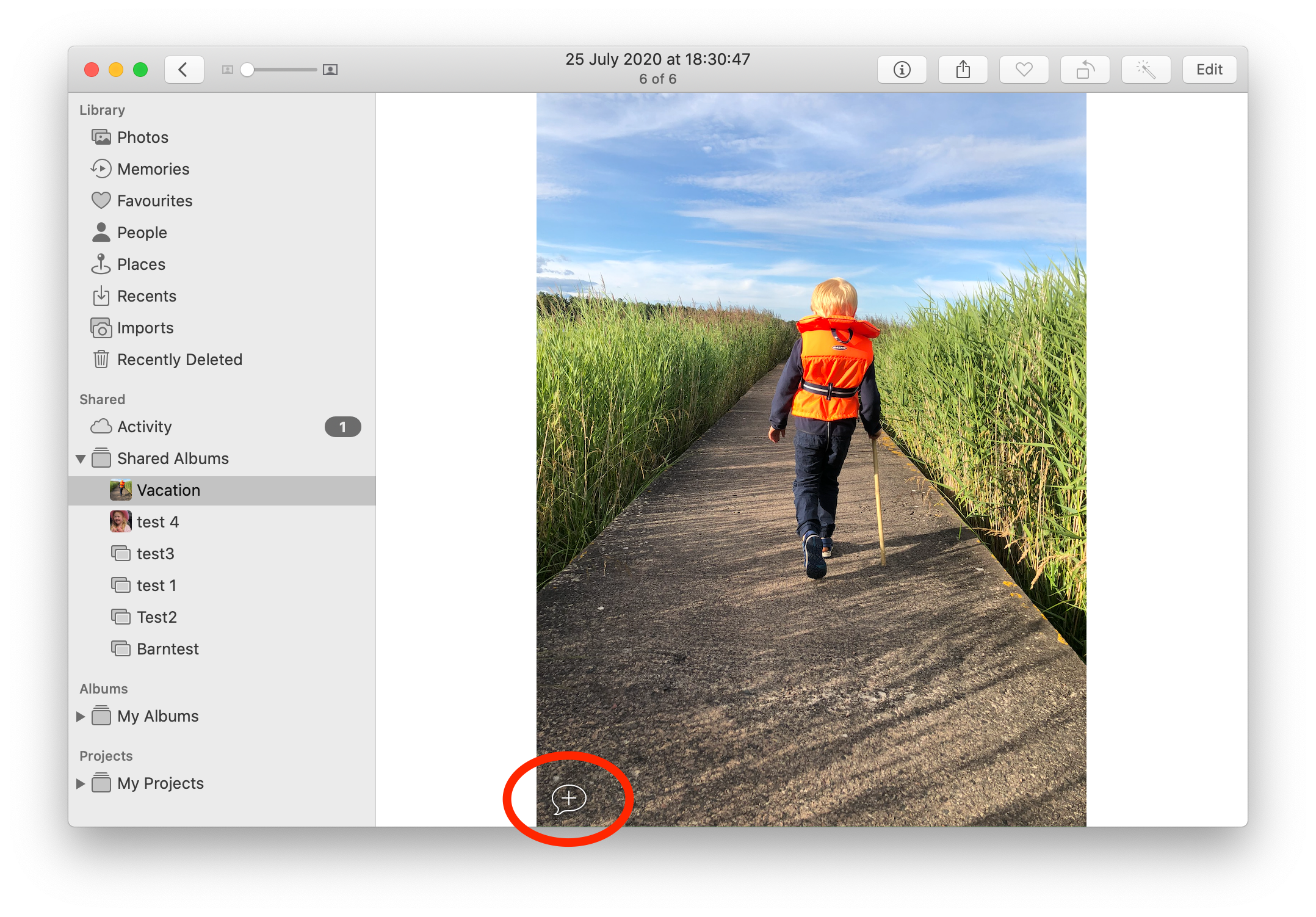 Click on the bubble icon, and you can "like" that image and/or add comments to it.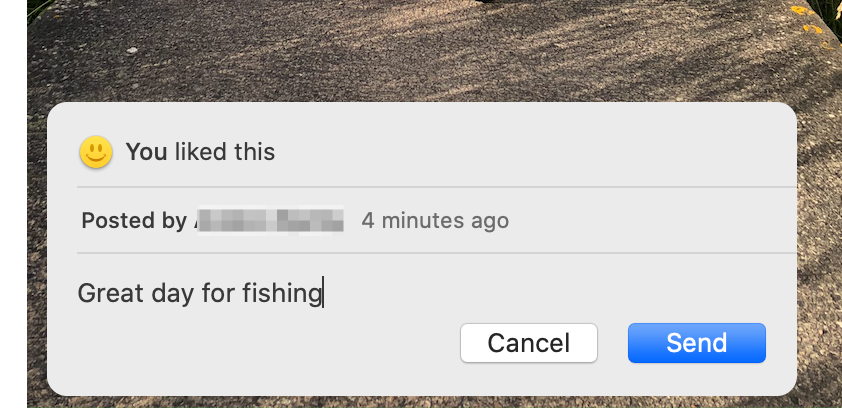 Anyone who is connected to this shared album can see and add comments, in a thread for each photo. Those comments are live, and updates on all devices with push notifications will notify you as comments are being added. This is what it looks like on an iPhone: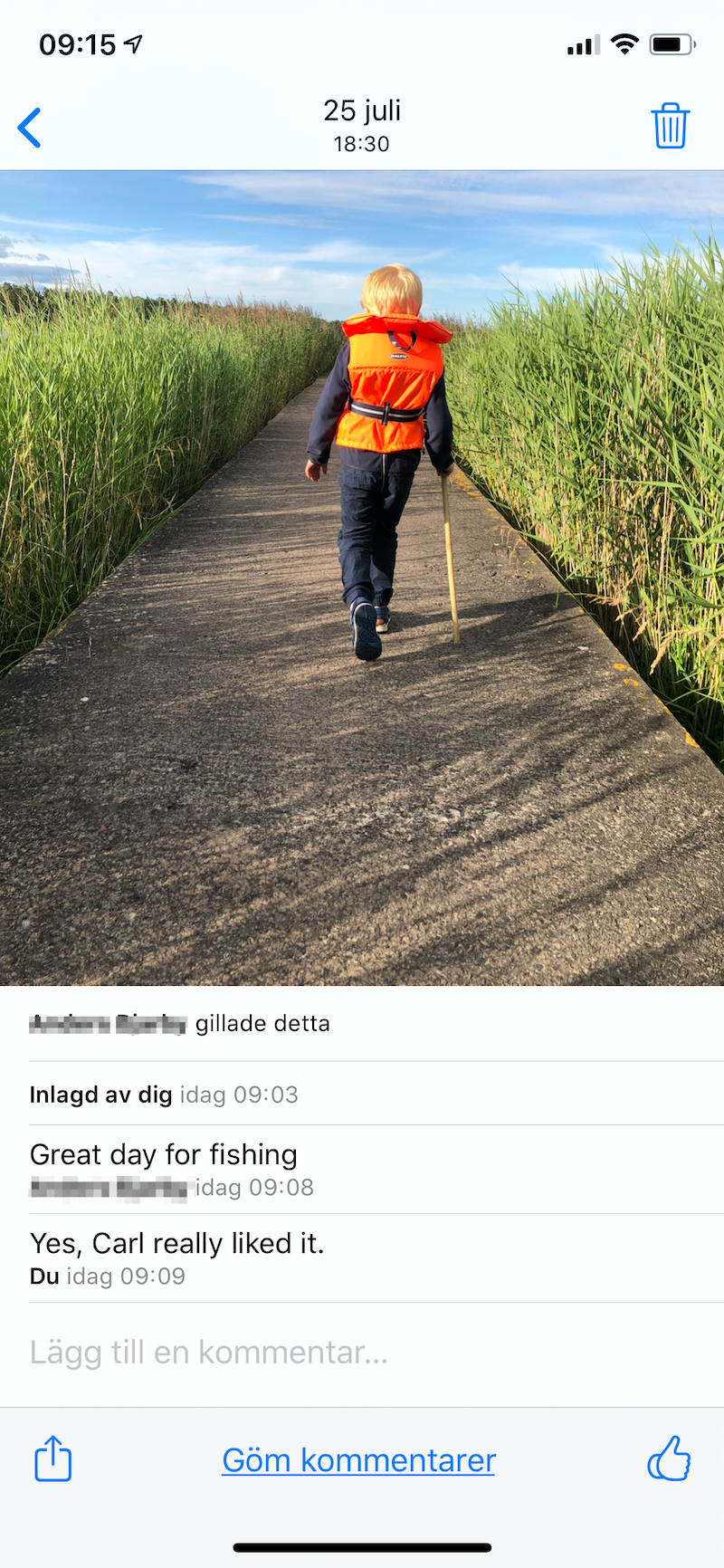 It is worth mentioning that the comments only live in the shared photo located in a shared album. If you copy the photo to your Photos library, or directly to another shared album, the copy will not have the comments and "likes".
You might also want to have look at the Activity Library in the Shared section of the Photos application. All photos, comments and/or likes that are added to any of your Shared albums will be shown here like a live stream.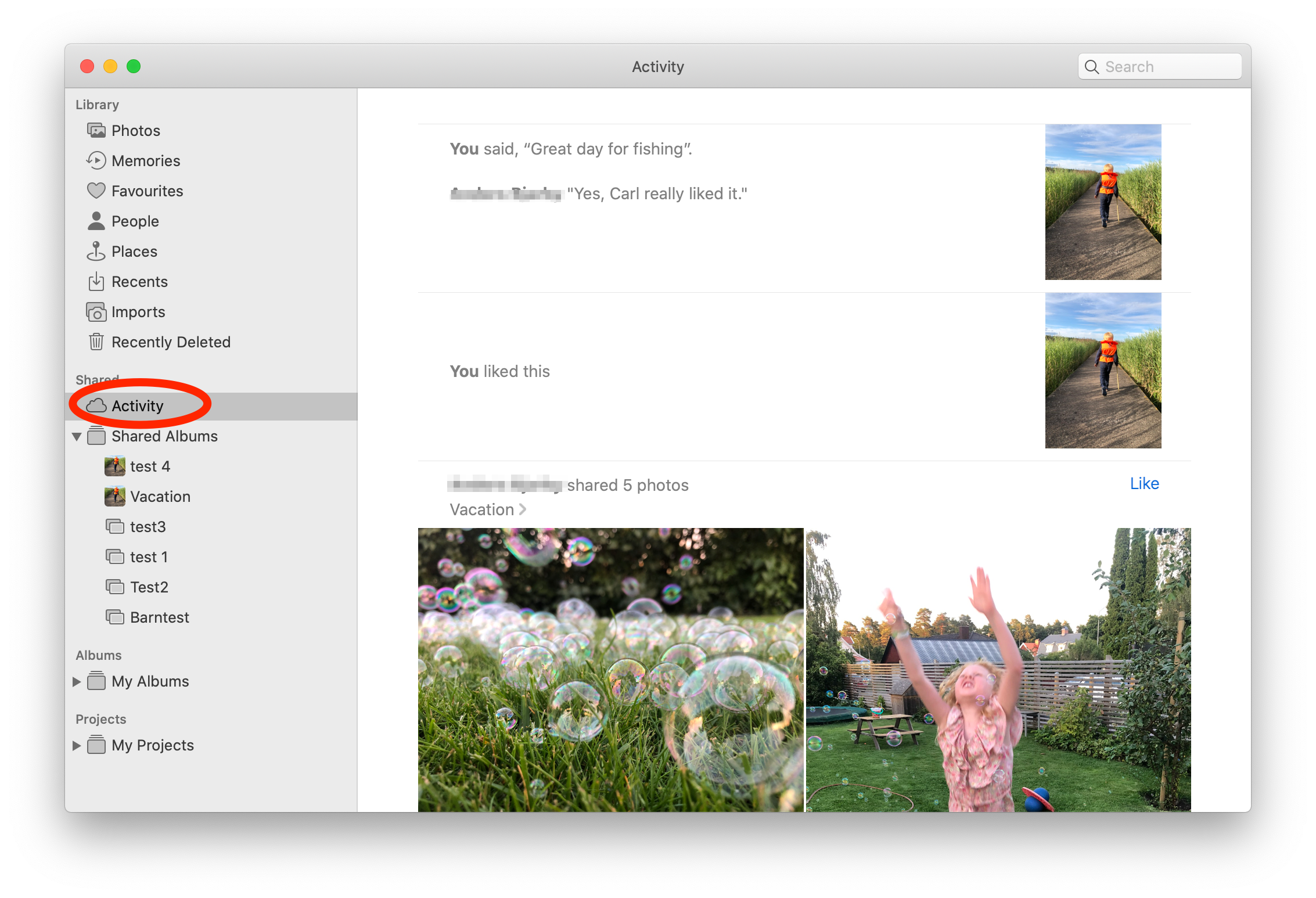 I recommend you start using the Comments feature. Perhaps you are already using it, and want to share some thoughts about it with me! If so, then please reply to this email.
The free apps section
As I have mentioned in previous letters we have received requests on how to automate some tasks in Apple Photos or tasks related to photos. Those tasks might be tedious to work out manually but are easy for us to solve. The apps include a tool to set the Photos Titles based on filename (with or without file extension), a tool to copy and apply GPS coordinates between photos and finally a utility to set the correct file dates on image files based on the photo date stored in the metadata within the image files. You'll find all our free apps at https://free.brattoo.com.
This newsletter and previous letters
Several of our readers have requested that we resend previous emails so that they could catch up on earlier tips and information. All previous emails are available online in our Newsletter section at https://newsletter.brattoo.com
Upgrades
Finally I would just like to tell you that our upgrade discount for Duplicate Annihilator for Photos is still available. For only $4.95 you can upgrade any old Duplicate Annihilator license to Duplicate Annihilator for Photos and for just two dollars($2.00) more you can upgrade any old Duplicate Annihilator license to the Duplicate Annihilator Toolbox including a family pack! This means that you get five licenses for you and your family for all versions of Duplicate Annihilator including iPhoto, Aperture, iOS and Photos for only $6.95.
Get the upgrade from: https://upgrade.brattoo.com
Thank you for your time, I hope that you found this email informative. If you have any feedback, suggestions, questions or ideas then please reply to this email. I read all emails and reply to them in person. And, don't forget to stay safe.
Best Regards,
Anders, CEO and Founder, Brattoo Propaganda Software