GPTEverything.
AI coming to Duplicate Annihilator and Photos Finder.
Introducing Photos Clicker.
Improvements to Photos Finder.
Photos and People
Introducing Photos Finder.
macOS 13 Ventura feature "Copy Subject" explained.
Photos 8 – how to set up a shared library
Duplicate Annihilator for Photos v8 released
How to search, filter, suggest and "facet" your search in Photos.
How to work with People/faces?
Metadata, what is it and how do I use and edit it?
Introducing Duplicate Annihilator 7.5.0 including fix for iCloud and missing files.
Introducing Duplicate Annihilator v7 including copy metadata from duplicates to originals.
Smart albums for missing people no longer working
Photos 7 and Live Text
Preserve folder and album structure as keywords
Working with Duplicate Annihilator for Photos – part 3
Working with Duplicate Annihilator for Photos – part 2
macOS 10.5 Catalina, Photos 5 and Duplicate Annihilator v4
Working with Duplicate Annihilator for Photos – part 1
Duplicate Annihilator – HEIC format support
What is HEIC?
Hi,
My name is Anders, and I'm the CEO of Brattoo Propaganda Software. Since we are still in Covid days, many of us have started to look into things that we didn't have time to do before, like organizing photos. During my 1 on 1 sessions with you I learn a lot about your needs, and our discussions give us new ideas on how to solve things. Based on those discussions, I will give you three ideas on what you can achieve with smart albums. I will also do a small recapture of my question to you regarding shared albums in my last newsletter. Here we go!
Take care and stay safe.
Shared albums and comments
In my last newsletter I asked for your feedback on: "do you use the shared albums comments feature for anything special?" I received a really nice idea from Chris in Washington. He writes:
"My brother and I are planning to use them to collect information from family about old prints and slides that have been scanned and published in an online album to fill in missing information like who is in them, where it was taken and add background, anecdotes, etc."
Isn't that a brilliant idea? Catch up on all those paper photos that you have been planning to scan for years. In these Covid times you can share the photos with your family, and in a joint effort, bring information to those images! I love the idea. Thank you Chris for sharing.
Smart albums - photos with things
You might know that Photos analyzes your photos and finds things in them that describes the photo, such as "car", "balloon", "children", "dog" and so on. This means that you can also use the search field in the upper right corner of Photos to search for those things: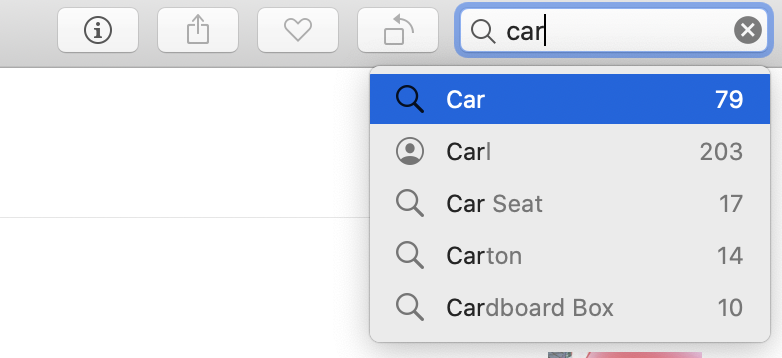 But did you also know that you can use smart albums to search for photos this way? It can be a really useful thing if you are organizing photos based on content. Simply create a smart album and set it to search for text like this:

Smart albums - Your family
You might use the People feature in Photos to detect photos with faces in them. The feature is really good, and the more you use it the better Photos gets at detecting your favorite faces. But did you know that you can group people with a smart album? Why not create a smart family album? Do it like this: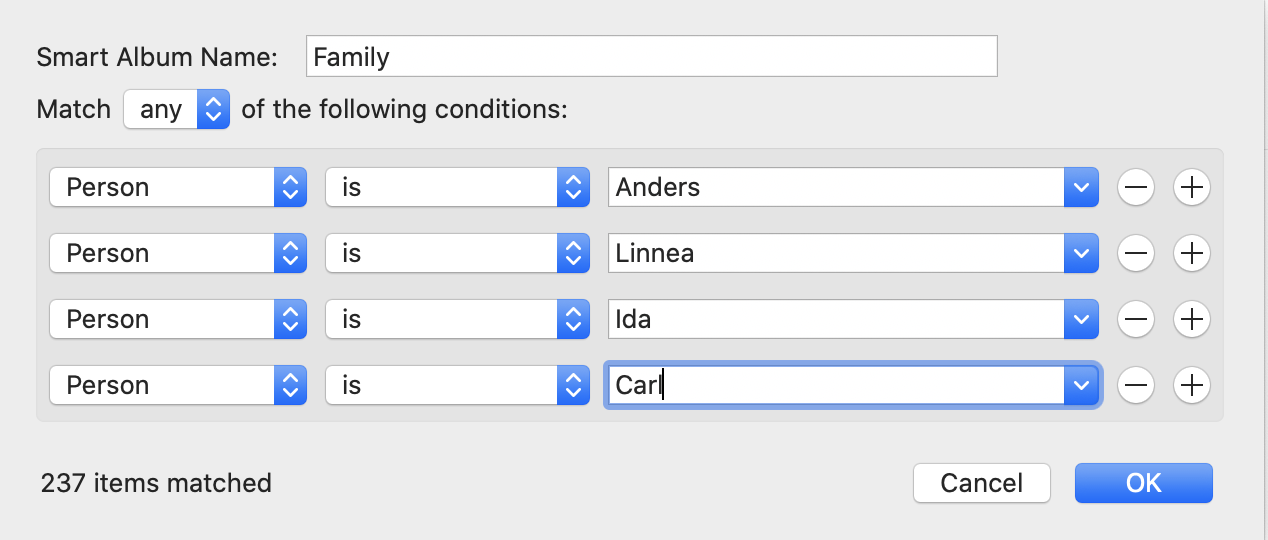 Voila! You now have an album that is automatically updated with your family members. Just remember to set the dropbox in the upper left corner to "any", otherwise you will only get the photos where all people are in the same photo.
Smart albums - the Archive
Many of us have lots and lots of photos and it is kind of daunting. You might have photos that aren't really that good, but you still don't want to delete them. You might have screenshots from your phone in your library, but you really don't want those to show up in the Photos app on your TV. So a question I often get is: "How can I split my library into two libraries? One for the photos want and an archive library for the rest?" Well, that isn't really a great idea. It will create lot of problems moving photos between the two libraries, keeping them updated, and in the end only one of them can be connected to your iCloud account.
Have you considered the "Hide photos" feature in Photos? You'll find it in the Image menu, or you can access it with Command+L.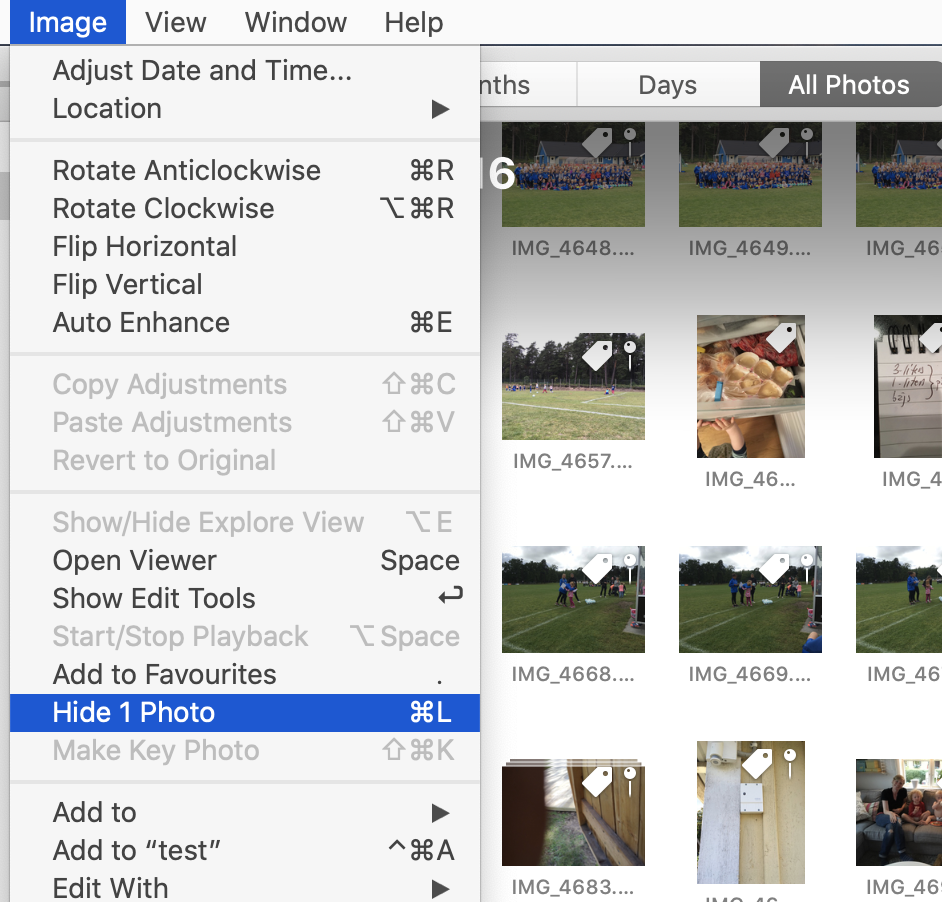 A hidden photo will be, well hidden and not shown in your library or on your TV. But you can create a smart album that only shows the hidden images, so why not use this "hide" feature to create an archive of those photos that you want to keep, but not show everywhere. You create the smart album like this:

All of a sudden you can keep all photos in the same library without the clutter! You can actually hide a photo directly from your iPhone. Simply click on the share button for a photo in your Photos library on your iPhone, scroll down a little and you will find the "hide" feature. On your iPhone you will then find those images in the "hidden" library.
Photos Secrets – a new product
As I mentioned in the last newsletter, I've made some interesting findings deep down in the Photos database which could add a whole new dimension to organizing and sorting photos. I was hoping that I would be bale to give you a beta version in this newsletter, but due to some COVID-19 related issues it is slightly delayed. I will inform you on Facebook and Twitter when it is first released, and then of course make a more thorough introduction to it in my next newsletter.
1 on 1 training sessions
I've decided to continue with my 1 on 1 training sessions, and it is indeed great fun to meet you guys. If you haven't tried, it but feel that it might be something for you, please feel free to email me. The training sessions can be about anything, and will be customized based on your requests. I have over 25 years experience in the Mac platform, I have been an Apple Solution Expert and have held trainings in various softwares over the years. Training sessions are on request by contacting me on training@brattoo.com. Each session is 1 hour and costs 79 USD. If you want to learn more about something, email me at training@brattoo.com and we'll work out a session just for you.
The free apps section
As I have mentioned in previous letters we have received requests on how to automate some tasks in Apple Photos or tasks related to photos. Those tasks might be tedious to work out manually but are easy for us to solve. The apps include a tool to set the Photos Titles based on filename (with or without file extension), a tool to copy and apply GPS coordinates between photos and finally a utility to set the correct file dates on image files based on the photo date stored in the metadata within the image files. You'll find all our free apps at https://free.brattoo.com.
This newsletter and previous letters
Several of our readers have requested that we resend previous emails so that they could catch up on earlier tips and information. All previous emails are available online in our Newsletter section at https://newsletter.brattoo.com
Upgrades
Finally I would just like to tell you that our upgrade discount for Duplicate Annihilator for Photos is still available. For only $4.95 you can upgrade any old Duplicate Annihilator license to Duplicate Annihilator for Photos and for just two dollars($2.00) more you can upgrade any old Duplicate Annihilator license to the Duplicate Annihilator Toolbox including a family pack! This means that you get five licenses for you and your family for all versions of Duplicate Annihilator including iPhoto, Aperture, iOS and Photos for only $6.95.
Get the upgrade from: https://upgrade.brattoo.com
Thank you for your time, I hope that you found this email informative. If you have any feedback, suggestions, questions or ideas then please reply to this email. I read all emails and reply to them in person. And, don't forget to stay safe.
Best Regards,
Anders, CEO and Founder, Brattoo Propaganda Software