GPTEverything.
AI coming to Duplicate Annihilator and Photos Finder.
Introducing Photos Clicker.
Improvements to Photos Finder.
Photos and People
Introducing Photos Finder.
macOS 13 Ventura feature "Copy Subject" explained.
Photos 8 – how to set up a shared library
Duplicate Annihilator for Photos v8 released
How to search, filter, suggest and "facet" your search in Photos.
How to work with People/faces?
Metadata, what is it and how do I use and edit it?
Introducing Duplicate Annihilator 7.5.0 including fix for iCloud and missing files.
Introducing Duplicate Annihilator v7 including copy metadata from duplicates to originals.
Smart albums for missing people no longer working
Photos 7 and Live Text
Preserve folder and album structure as keywords
Working with Duplicate Annihilator for Photos – part 3
Working with Duplicate Annihilator for Photos – part 2
macOS 10.5 Catalina, Photos 5 and Duplicate Annihilator v4
Working with Duplicate Annihilator for Photos – part 1
Duplicate Annihilator – HEIC format support
What is HEIC?
Hi,
My name is Anders and I'm the CEO of Brattoo Propaganda Software. We are still in Covid times but hopefully we will see some light at the end of the tunnel with the vaccines. About a month ago I went ice skating, and unfortunately that resulted in falling and tearing the rotator cuff muscle in my right shoulder. As it turns out, that muscle is pretty convenient to have, and unfortunately tearing it results in me going into surgery on Tuesday. The surgery will most likely affect my response time to support questions, please bare with me. If you want more details, then feel free to ask. Anyway, In my last newsletter I focused on Apple's new releases Photos 6, macOS 11.0 Big Surand the new M1 architecture. Perhaps it is time for some more productivity tips regarding Photos. Here we go!
Take care and stay safe.
Free tool 1 – Show On Map
During my 1 on 1 sessions I get all kinds of questions on how to do things. Jason from Missouri had some issues with the map in the Info window in Photos, and thought that it was too small and limited. Well, that resulted in the free application "Show On Map" available for download in our free section at https://free.brattoo.com. With this application you simply select a photo in Photos and click on a button and the location will be shown in Google Maps, in your browser. Quite convenient from time to time.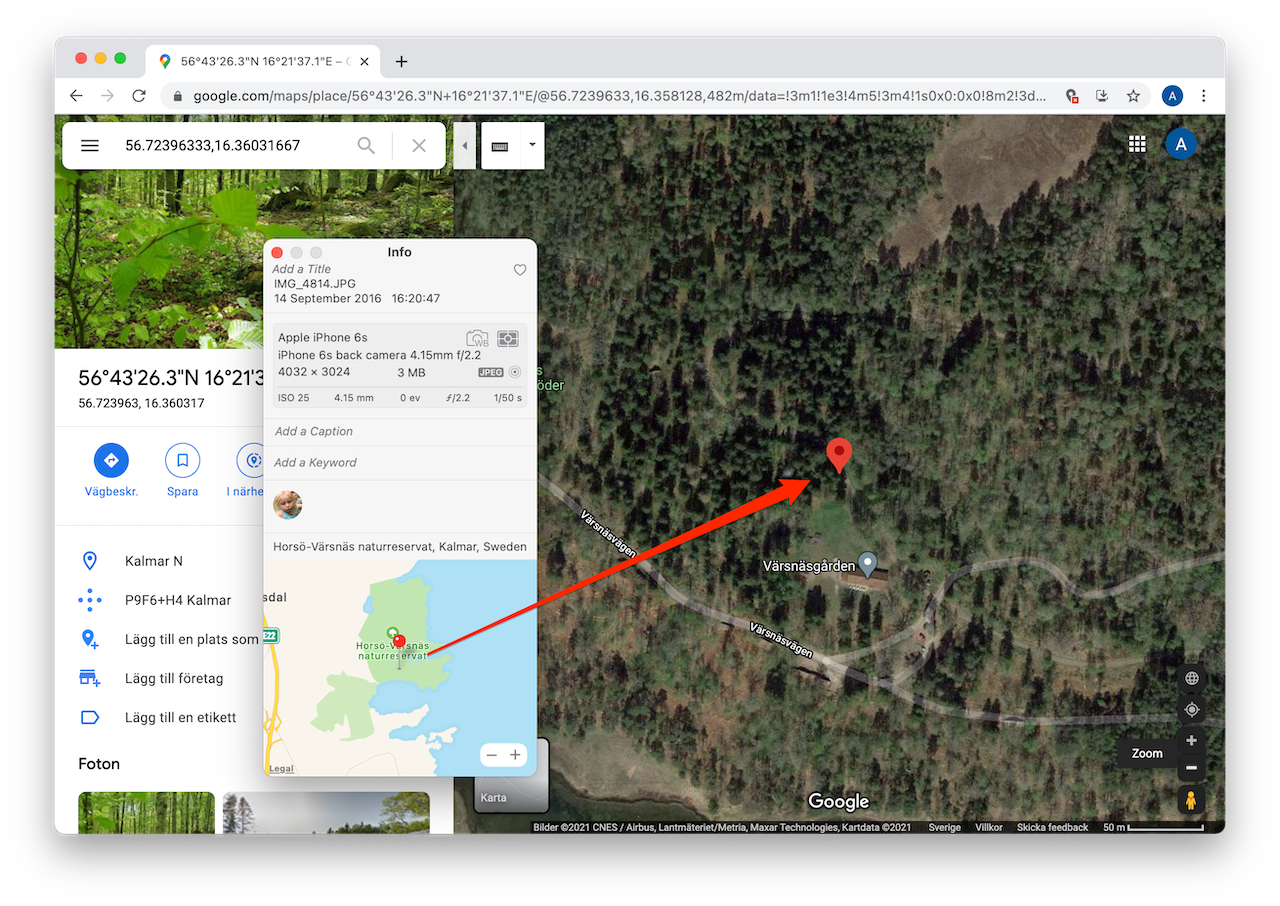 Free tool 2 - Find Matching Albums
Mick in North Carolina wondered in which albums a certain photo was used, so we built a free tool for that as well! It's called "Find Matching Albums" and can also be downloaded from https://free.brattoo.com
Free tool 3 - Copy XMP to Photo
During a 1 on 1 session with Geraldine in California, we came to a point where we wanted to merge contents from various Photos Libraries into one Library. Geraldine had put a huge amount of effort into adding metadata to the photos, so it was a bit scary to merge them using iCloud (as I descried in my previous email). Well, would't it be lovely if you could export the photos from Photos, keep the added metadata and then import that with the photo into the next library? Well, you can. When you export, the metadata is embedded as XMP in the image file. Then Photos can read the XMP image and keep things like keyword, title, description/caption and location.

Awesome, but there is a small problem. If you export the Originals (which is most likely what you want to do) then the metadata isn't embedded.  There is a cryptic checkbox though, called export IPTC as XMP, which will solve the problem by also exporting the metadata.
The issue is that the XMP is exported as an additional file, a sidecar file. And it seems that Photos does not recognize this sidecar file. So what do you do? Well, I built a small tool that can be used to automatically import the metadata of the sidecar XMP file into the original image. And all of a sudden you can export and import the originals and still keep the metadata.
This application named Copy XMP to Photos will also be free and soon available for download from https://free.brattoo.com
The dreaded green boxes – a possible solution
Perhaps you have encountered this dreaded problem with Photos? The colors are all wrong, and there are are diagonal green boxes across the image. I have had a few requests about this and also read about it online in various forums but no solution. Then later I had the same problem.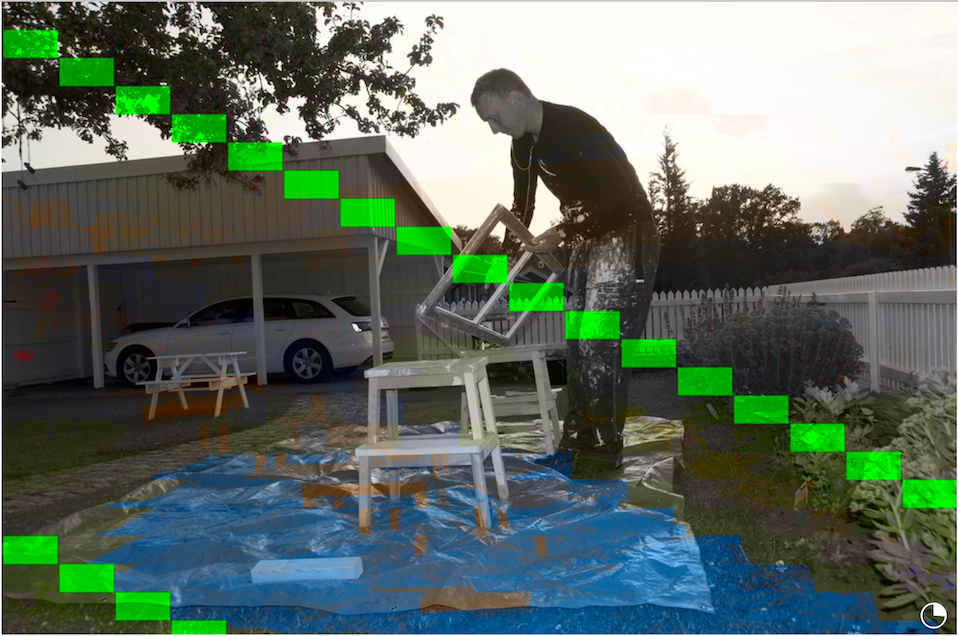 The first fear is:  are my photos permanently damaged? No, in my case I have a storage optimised iCloud library and the photos work on the other devices. The next question is can they be fixed? In my case the affected images seem to be only RAW files, and the only affected images were the ones where the originals are stored in iCloud. This means that when the photo is downloaded from iCloud it cleans it up! So I thought, the Photos internal thumbnails are probably fine since they look fine when browsing the photos. Could it be the previews then? So for a few example images I located the matching preview files deep down in the Photos Library package, and as it turns out they were also just fine.
So then it might be some kind of cache thing? Caches are things used for temporary storage of data in almost every program, and are used to speed up performance. Either I could try to locate wherever Photo stores it's internal caches, or I could try to render them invalid. Usually there are mechanisms to make caches realize that they are not up to date, and then they are thrown away and start over from scratch. Could that be it? So I started to open image after image, with those green boxes, and waited for them to download from iCloud. And guess what? After about 50 images, all of a sudden the green boxes were all gone on all my photos!
Well, I have a theory that this cache rendering thing might be triggered by the actual download of the image, and if that is the case then it might be possible to also trigger it by using the "Export originals" feature in Photos. Unfortunately, now my library is fixed so I can't verify that. Exporting images also consumes hard drive space and that is probably something you do not want to do. So I created small program that exports the selected photos, but set the destination path to something called /dev/null. /dev/null is like a black hole. You can save anything you want there and it will just never be stored, it is like a black hole for programmers. If anyone of you experience this problem with green boxes and want to try this small script that exports images to /dev/null then please let me know.  I would also appreciate it if you give me some feedback letting me know which version of Photos you are using when you experienced this.
1 on 1 training sessions
I've decided to continue with my 1 on 1 training sessions, and it is indeed great fun to meet you guys. If you haven't tried, it but feel that it might be something for you, please feel free to email me. The training sessions can be about anything, and will be customized based on your requests. I have over 25 years experience in the Mac platform, I have been an Apple Solution Expert and have held trainings in various softwares over the years. Training sessions are on request by contacting me on training@brattoo.com. Each session is 1 hour and costs 79 USD. If you want to learn more about something, email me at training@brattoo.com and we'll work out a session just for you.
The free apps section
As I have mentioned in previous letters we have received requests on how to automate some tasks in Apple Photos or tasks related to photos. Those tasks might be tedious to work out manually but are easy for us to solve. The apps include a tool to set the Photos Titles based on filename (with or without file extension), a tool to copy and apply GPS coordinates between photos and finally a utility to set the correct file dates on image files based on the photo date stored in the metadata within the image files. You'll find all our free apps at https://free.brattoo.com.
This newsletter and previous letters
Several of our readers have requested that we resend previous emails so that they could catch up on earlier tips and information. All previous emails are available online in our Newsletter section at https://newsletter.brattoo.com
Upgrades
Finally I would just like to tell you that our upgrade discount for Duplicate Annihilator for Photos is still available. For only $4.95 you can upgrade any old Duplicate Annihilator license to Duplicate Annihilator for Photos and for just two dollars($2.00) more you can upgrade any old Duplicate Annihilator license to the Duplicate Annihilator Toolbox including a family pack! This means that you get five licenses for you and your family for all versions of Duplicate Annihilator including iPhoto, Aperture, iOS and Photos for only $6.95.
Get the upgrade from: https://upgrade.brattoo.com
Support the creation of these newsletters by becoming a Patron!
If you enjoy these newsletters, and want to support the creation of them, then please consider becoming a monthly contributor by signing up to become a Patron at https://www.patreon.com/brattoo. Paterons gets access to vidos of hints and tips from my newsletters.
Thank you for your time, I hope that you found this email informative. If you have any feedback, suggestions, questions or ideas then please reply to this email. I read all emails and reply to them in person. And, don't forget to stay safe.
Best Regards,
Anders, CEO and Founder, Brattoo Propaganda Software