GPTEverything.
AI coming to Duplicate Annihilator and Photos Finder.
Introducing Photos Clicker.
Improvements to Photos Finder.
Photos and People
Introducing Photos Finder.
macOS 13 Ventura feature "Copy Subject" explained.
Photos 8 – how to set up a shared library
Duplicate Annihilator for Photos v8 released
How to search, filter, suggest and "facet" your search in Photos.
How to work with People/faces?
Metadata, what is it and how do I use and edit it?
Introducing Duplicate Annihilator 7.5.0 including fix for iCloud and missing files.
Introducing Duplicate Annihilator v7 including copy metadata from duplicates to originals.
Smart albums for missing people no longer working
Photos 7 and Live Text
Preserve folder and album structure as keywords
Working with Duplicate Annihilator for Photos – part 3
Working with Duplicate Annihilator for Photos – part 2
macOS 10.5 Catalina, Photos 5 and Duplicate Annihilator v4
Working with Duplicate Annihilator for Photos – part 1
Duplicate Annihilator – HEIC format support
What is HEIC?
Hi,
My name is Anders and I'm the CEO of Brattoo Propaganda Software. Finally, I'm back! It has taken seven weeks to recover enough from my rotator cuff surgery to start writing newsletters again. Having a fixed right arm (absolutely no movement) for five weeks, in pain, on morphine, not sleeping and Parkinson's (which plays tricks with your left hand) just isn't great for productivity. Anyway, I'm so happy to be able to write the newsletter again! This time I will write a little about the greatly improved import feature in Photos 6, and some other things as well. Here we go!
Take care and stay safe.
Copy XMP to Photo – it's free and it's here
In my last newsletter, I told you about a tool which takes the metadata XMP files exported by Photos, and merged them into image files so that the metadata data exported could be imported to another Photo Library. A very useful tool. Well, when my last newsletter was sent, the application wasn't quite finished but now it is and it is available for download from https://free.brattoo.com
I also told you that the XMP side cars files, exported by Photos, could not be imported by Photos itself and that is why I built this tool. This resulted in a manager at the Photos developer team (at Apple) replying to my newsletter, and telling me that Photos does indeed import the sidecar files. We argued a bit about it, and as it turns out, it DOES NOT import the sidecar files, and the issue has now been escalated at Apple! I'm thrilled and honored that someone in the actual Apple team, that develops the Photos application, reads this newsletter. It also means that the feedback that I get from you, my readers, either on this newsletter or during 1 on 1 training sessions, is important! The feedback you provide often makes back into the newsletter, and now we know, it is actually read and received by the Apple Photos team. This is very nice to know.
Waiting for Photos to finish
I've been there waiting and waiting, and so have many of you. We have been waiting for Photos to finish whatever it is doing! (Detecting faces, uploading or downloading to iCloud.) I have received tons of emails about this asking "what can I do to make sure that Photos finishes whatever it is doing?" Well, since I actually made contact within the Apple Photos team I asked them, and apparently that is a question they get a lot internally as well. The answer is that it is complicated and based on lots of conditions. The process is controlled at the system level by things such as personal usage patterns, but at a higher level on things like being connected to power, having an idle CPU and nominal thermals. Thermals is interesting, this could mean that if the fans in your computer are plugged with dust, and it is having hard time keeping the temperature down, then the Photos background processes won't run. In earlier versions of Photos it was helpful to keep the Photos application open (I wrote about that in one of my earliest newsletter) but apparently that is no longer necessary.
Photos 6 – preserving folder structure
There are many of us who have folders where we have organized our photos over the years. We typically use folders because we're not feeling completely satisfied with just importing them to Photos, and without hope that you will ever get them as organized again. Until recently, you could preserve the structure of the album by importing one folder at a time, dragging them to the My Albums label in Photos. After dragging the folders to My Albums, an album would be created and named after the folder you dragged there. But this required quite a lot of manual work, and if you have a complex folder structure it could be a challenge. Then Photos 6 appeared, and that fantastic new feature helps us preserve all the manual work we put into sorting photos over the years. Let's say, I would like to import this folder structure into Photos: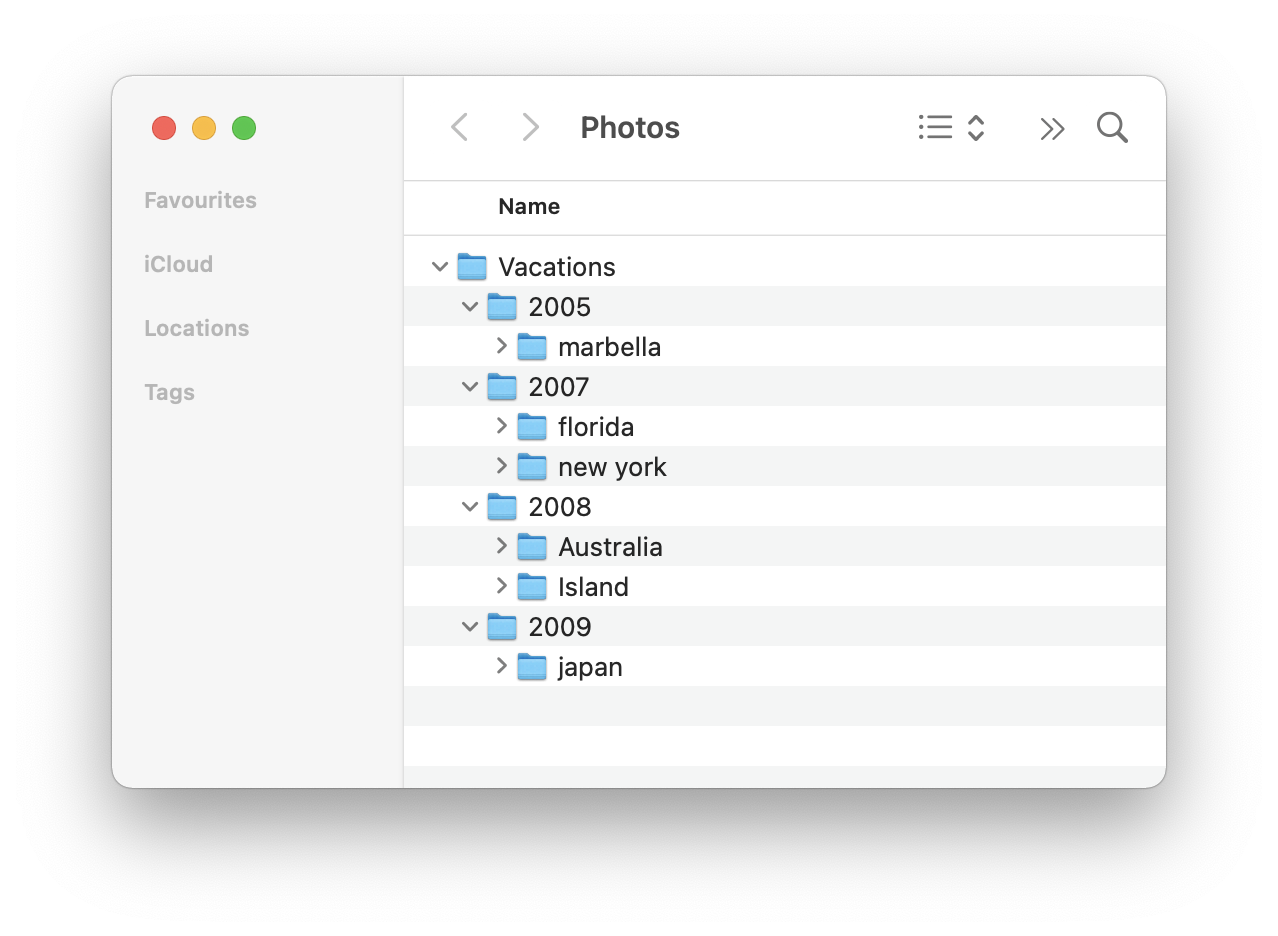 First, go to the File->Import menu in Photos and select the top folder. Click on the Review for Import button and there you have it! A brand new checkbox that does all the magic! It is called "Keep Folders" and does just that.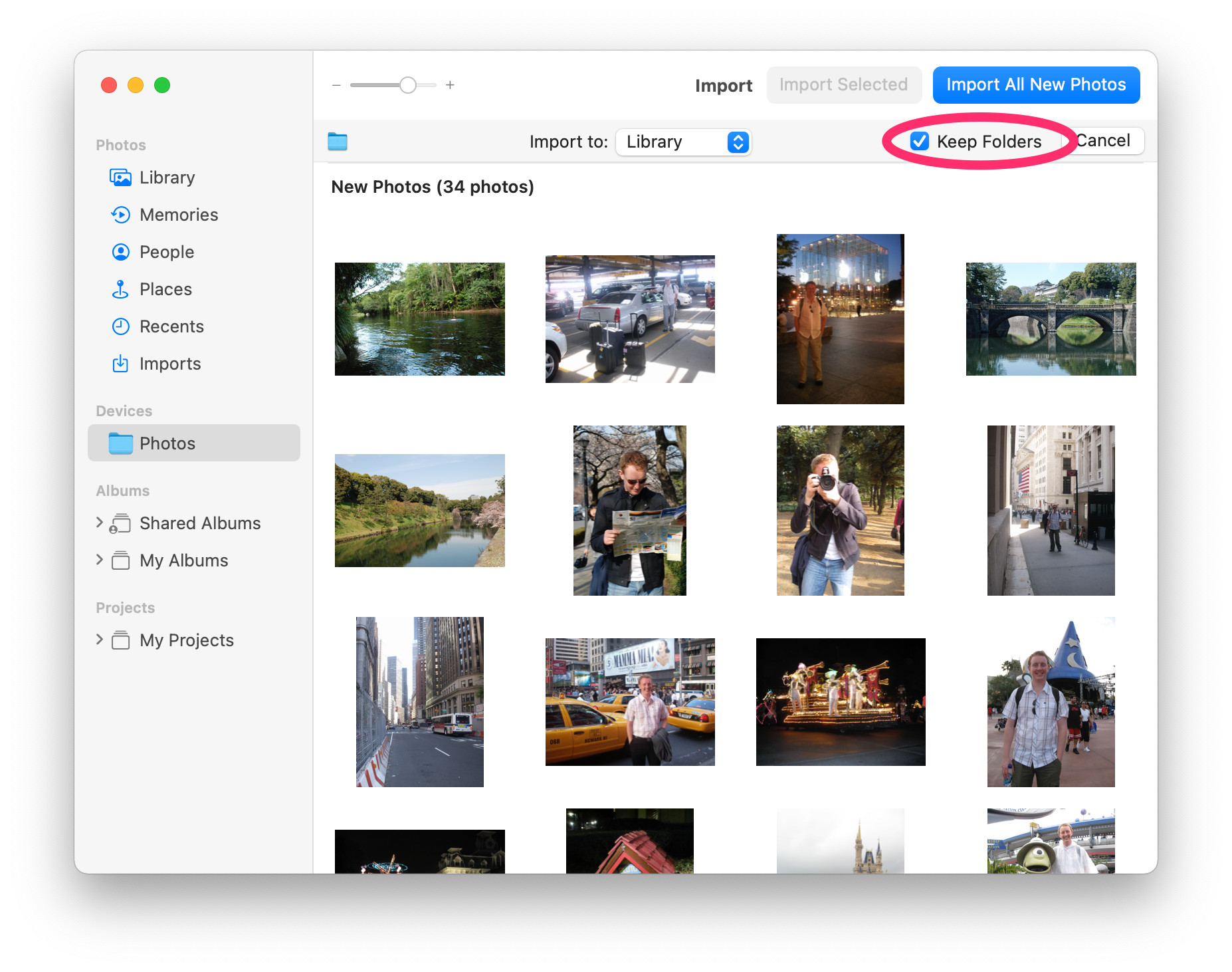 So when the import is finished, all my carefully organized photos are still organized in the very same structure, but within Photos. Isn't that just great?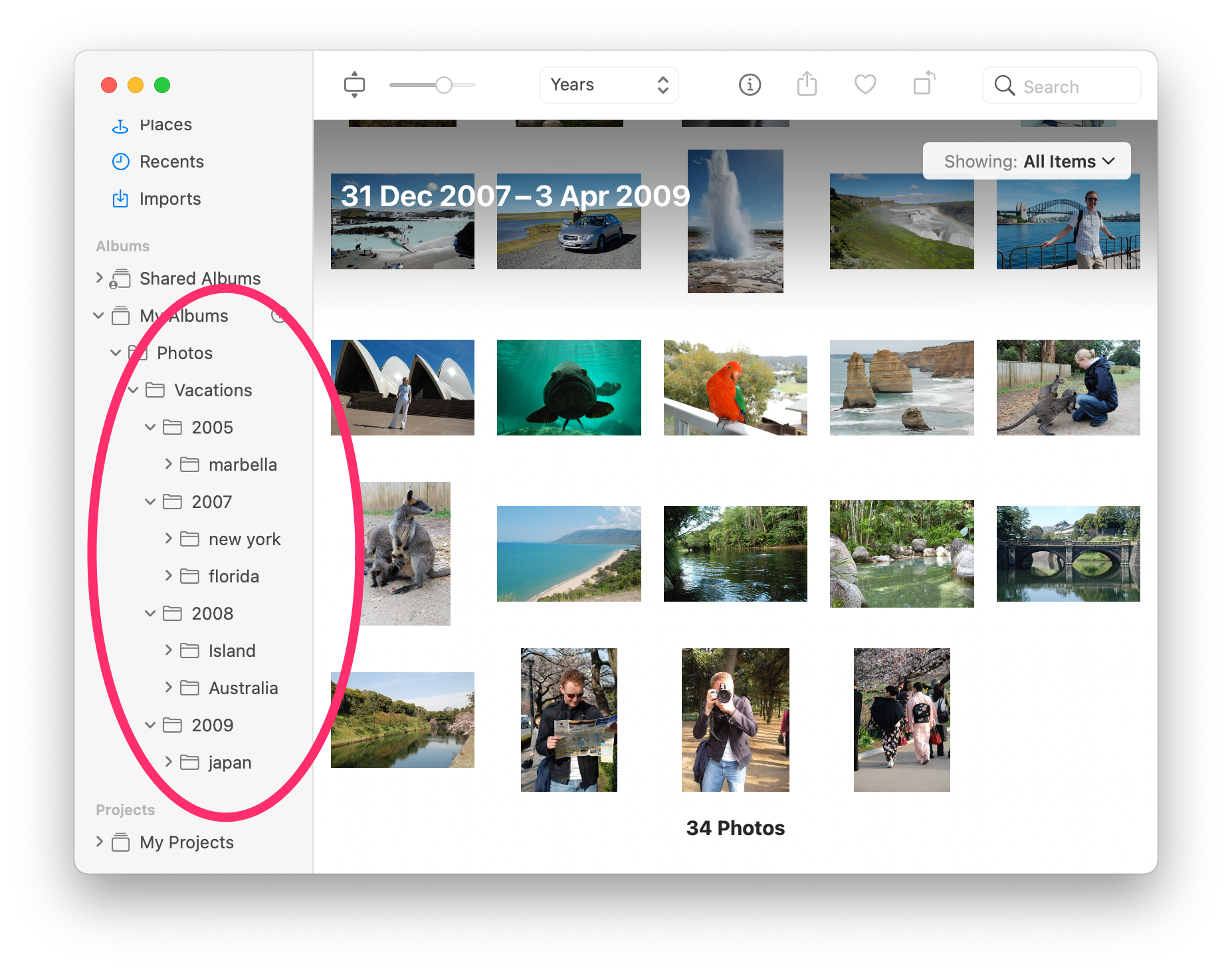 If you want, you can achieve the same thing simply by dragging the top folder from a Finder window straight to the My Albums label in Photos. I love this feature!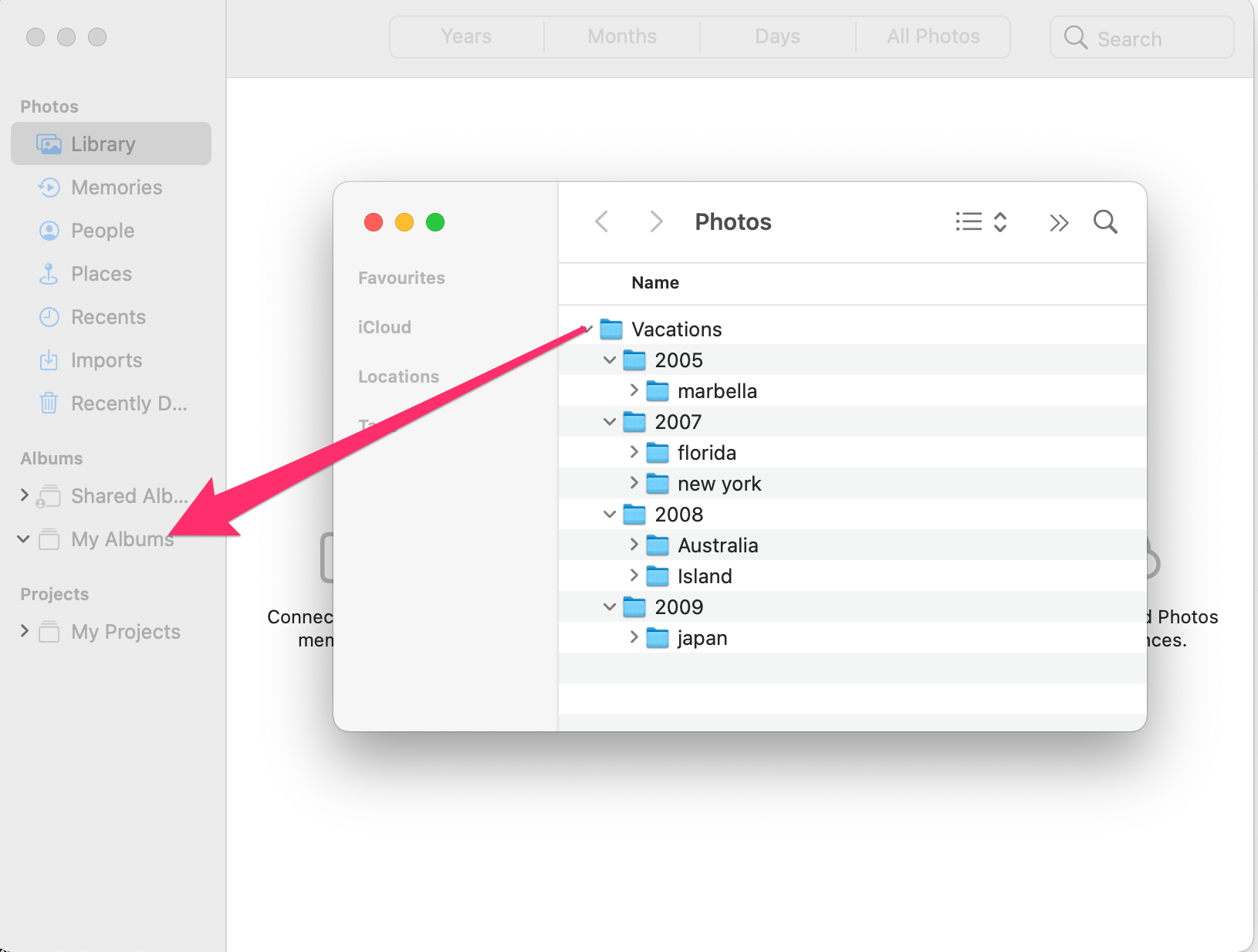 So there we have it, we can finally, once and for all, stop sorting photos in the Finder folders (where we have put so much manual labor) and finally maintain that structure within the Photos application instead.
1 on 1 training sessions
I've decided to continue with my 1 on 1 training sessions, and it is indeed great fun to meet you guys. If you haven't tried, it but feel that it might be something for you, please feel free to email me. The training sessions can be about anything, and will be customized based on your requests. I have over 25 years experience in the Mac platform, I have been an Apple Solution Expert and have held trainings in various softwares over the years. Training sessions are on request by contacting me on training@brattoo.com. Each session is 1 hour and costs 79 USD. If you want to learn more about something, email me at training@brattoo.com and we'll work out a session just for you.
The free apps section
As I have mentioned in previous letters we have received requests on how to automate some tasks in Apple Photos or tasks related to photos. Those tasks might be tedious to work out manually but are easy for us to solve. The apps include a tool to set the Photos Titles based on filename (with or without file extension), a tool to copy and apply GPS coordinates between photos and finally a utility to set the correct file dates on image files based on the photo date stored in the metadata within the image files. You'll find all our free apps at https://free.brattoo.com.
This newsletter and previous letters
Several of our readers have requested that we resend previous emails so that they could catch up on earlier tips and information. All previous emails are available online in our Newsletter section at https://newsletter.brattoo.com
Upgrades
Finally I would just like to tell you that our upgrade discount for Duplicate Annihilator for Photos is still available. For only $4.95 you can upgrade any old Duplicate Annihilator license to Duplicate Annihilator for Photos and for just two dollars($2.00) more you can upgrade any old Duplicate Annihilator license to the Duplicate Annihilator Toolbox including a family pack! This means that you get five licenses for you and your family for all versions of Duplicate Annihilator including iPhoto, Aperture, iOS and Photos for only $6.95.
Get the upgrade from: https://upgrade.brattoo.com
Support the creation of these newsletters by becoming a Patron!
If you enjoy these newsletters, and want to support the creation of them, then please consider becoming a monthly contributor by signing up to become a Patron at https://www.patreon.com/brattoo. Paterons gets access to vidos of hints and tips from my newsletters.
Thank you for your time, I hope that you found this email informative. If you have any feedback, suggestions, questions or ideas then please reply to this email. I read all emails and reply to them in person. And, don't forget to stay safe.
Best Regards,
Anders, CEO and Founder, Brattoo Propaganda Software