Improvements to Duplicate Annihilator.
AI in Photos Finder.
Duplicate Annihilator for Photos v9
AI Classroom.
GPTEverything.
AI coming to Duplicate Annihilator and Photos Finder.
Introducing Photos Clicker.
Improvements to Photos Finder.
Photos and People
Introducing Photos Finder.
macOS 13 Ventura feature "Copy Subject" explained.
Photos 8 – how to set up a shared library
Duplicate Annihilator for Photos v8 released
How to search, filter, suggest and "facet" your search in Photos.
How to work with People/faces?
Metadata, what is it and how do I use and edit it?
Introducing Duplicate Annihilator 7.5.0 including fix for iCloud and missing files.
Introducing Duplicate Annihilator v7 including copy metadata from duplicates to originals.
Smart albums for missing people no longer working
Photos 7 and Live Text
Preserve folder and album structure as keywords
Working with Duplicate Annihilator for Photos – part 3
Working with Duplicate Annihilator for Photos – part 2
macOS 10.5 Catalina, Photos 5 and Duplicate Annihilator v4
Working with Duplicate Annihilator for Photos – part 1
Duplicate Annihilator – HEIC format support
What is HEIC?
Hi,
My name is Anders and I'm the CEO of Brattoo Propaganda Software. In my last newsletter I focused on our afterlife, digital heritage and things that we might not have thought about. If you missed that newsletter I encourage you to read it online here. I'm not quite finished with that topic and I will get back to it again in a future newsletter, I will do some follow-ups in this letter as well. Both are about some very related changes in the upcoming macOS 12.0 Monterey and iOS 15, and a real-life story about Greg in California, and the importance of your photos having a working backup. This will be good.
Take care and stay safe.
macOS 12 Monterey and iOS 15 and the afterlife
On the 14th of September it will be time for Apple's next big event. Two of the expectations are the release of macOS 12 Monterey and iOS 15. With that, we will see some changes. It is expected Photos 7 will have some interesting new features (which I have mentioned in an earlier newsletter). It is also expected that a change will occur in what happens to our photos after we die. As I mentioned in my last newsletter we all happily accept the legal conditions when we sign up for iCloud, and one of the things we agreed upon is "No Right of Survivorship". Well, with macOS 12 and iOS 15 you can add a Legacy Contact.
A Legacy Contact is someone who you trust and who will be allowed to have access to your iCloud data after your death. When you add someone as a Legacy Contact they will receive a secret access key which they, in combination with a death certificate, can use to claim your data after you have died.
macOS 12 Monterey and Duplicate Annihilator
Yes, Duplicate Annihilator for Photos is fully compatible with macOS 12 Monterey and Photos 7. There are some things that we needed to fix, but those things are being taken care of and Duplicate Annihilator for Photos v6.1.0 is available for download today from https://brattoo.com/#photos.
Photos 7 and merging libraries
I have previously written about how to merge Photos Libraries by using iCloud. This is also a reoccurring topic in my 1 on 1 Training Sessions. With Photos 7 a new feature is introduced which allows us to select from the import menu a whole Photo Library, instead of just photos. Apple states that "Now you can import original photos, including edits, from a second Photos library." I really hope that it will be true, since it can be quite tedious to merge using iCloud.
However, I have just tried the latest beta version of Photos 7 and so far the import of photos from another library works well. The only issue I found were that some metadata seems to follow with the photos (the Title and the Description/Caption.) Keywords, edits, and albums do not import. This is a huge deal since especially keywords and albums are something that many of us have put a lot of effort into when organizing our libraries. However, Apple claims that edits will be imported, they have not been imported in my tests, so we can assume that there are still some fixes and features left to be implemented before the final release of macOS 12 and iOS 15. Let's hope that those flaws will be fixed.
Photos and Unnamed persons
We all have them, photos with unnamed persons in them, it is frustrating and it is a common issue that I get a lot of questions about. How can I locate all photos with unnamed persons? Even the Internet is full of threads where this question is being asked, but apparently no answers.Yet.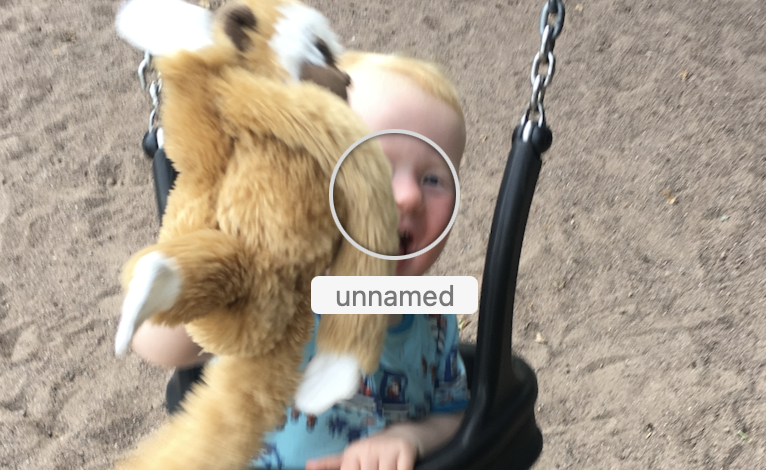 In an earlier newsletter I wrote about how it was possible to locate photos with unnamed persons in early versions of Photos, by utilizing the fact that Photos is based on an SQLite database and we can use wildcards to locate unnamed persons. Well, that option disappeared but the question remained. How do we locate the photos with unnamed persons?
So, a few days ago I accidentally discovered a way to do it. All you have to do is create a Smart Album that searches for "person is 'nothing'" and voila! You now have a smart album that lists all photos where there are unnamed persons.

Greg's story – the importance of a working backup.
About a year ago I had 1 on 1 Training session with Greg from California, so when he read my last newsletter about digital heritage he thought that perhaps I could help him with a problem that he recently encountered. Greg had noticed that when he tried to edit any photo in Photos he couldn't get it to work. Photos just replied with an error about not being able to load previous edits. When trying to export, Photos also failed with a very cryptic error. Greg noticed that the file size of the Photos Library was uncomfortably small and decided to contact Apple Support. Apple said that he was out of luck and they could not help him.
Greg's Photos Library was stored on an external SSD and luckily he had a backup on another external HDD. However, the backup had the same problem. So in desperation, Greg turned to me and we had 1 on 1 Session where I had a look at the library contents. As it turned out all files in the originals folder within the Photos Library Package were gone. Gone as in deleted and also gone on the backup. No iCloud, no Time Machine, no other backup. Greg was not very happy about this; realizing that 20 years of photos of his life, his wife, and his kids were gone.
But, who am I to give up so easily? The first thing that came to my mind was that we had to try to do a file recovery, using software to locate deleted files. The only problem was, the library is located on a TRIM-enabled SSD drive, and without going into the technical details you can't undelete files from those. So what do we do?
Well, the backup was on a regular HDD from where deleted files can be recovered, but if the files were missing on the original drive then they should be missing on the backup as well, right? Well, luckily enough, the HDD backup drive had for a short period of time been used for the Photos Library before being moved to the SSD drive just a few months ago. The Library had then been deleted from the HDD drive, before it became the backup drive.
This meant that the HDD hard drive contained a working copy a few months ago, before being replaced by the corrupted backup. It was a large drive where the backup only took up a fraction of the available space, which gave me good hopes of recovering things. So we tried it and yes! Deleted image files started to be recovered. The only problem was that they were all named with a sequential recovery name like 0000001.jpg. One might think that this is good, at least we have the photos, right? But Greg had wisely spent the Covid years organizing his 58,000 photos, adding metadata, and so on. Just importing the recovered image files to a new library would make all that work undone.
So I wrote him a custom script that compared the metadata stored in the Photos database, with the metadata in the recovered files, and thereby was able to match the recovered files with the matching posts in the database. This also made it possible to rebuild the structure of the originals folder as it was once built by Photos. Awesome!
Well, not that awesome as it turns out. The Photos Library was in some way damaged so it only worked on a fraction of the photos. The Originals were restored but Photos could only access a few of them. So probably something else was also missing in the Photos library structure.
At this time Greg had found a disk with a two year old working copy of his library. This meant that we now had a working copy but missing about 8,000 photos that had been imported, during the two covid years and of course the metadata, such as keywords and albums. So I compared the databases of the two libraries, and was able to locate the 8000 photos from the recovered photos and we imported them.
The next step was the metadata. I wrote a script that extracted all available metadata such as title, geo, description, keywords, and albums from the damaged library. It was then easy to re-import the metadata for the first 50,000 images in his old library. The problem came with the last recovered 8,000. The problem came when the 8,000 were imported, they got new IDs not matching the IDs of the old library.
So now I had the metadata of 8.000 photos pointing at the wrong IDs. What should I do? Well, Photos stores a digital checksum (like a digital fingerprint) of each file in the database. By comparing the checksums in the old library with the ones of the newly imported photos, I could match the old IDs with the new IDs and thereby also recover the metadata of the newly imported photos.
So, in the end, Greg now has a working Photos Library with all the full-size images. They each have all the metadata, and they can be edited and exported. According to Greg's wife, he is now smiling for the first time in weeks! I'm certain that Greg will have a better backup strategy and also verify that the backup is working in the future.
Greg, if I ever happen to pass by in your area you owe me a drink. 😀
1 on 1 training sessions
It is indeed great fun to meet you guys in my 1 on 1 training sessions. If you haven't tried, it but feel that it might be something for you, please feel free to email me. The training sessions can be about anything and will be customized based on your requests. I have over 25 years of experience in the Mac platform, I have been an Apple Solution Expert and have held training in various software over the years. Training sessions are on request by contacting me at training@brattoo.com. Each session is 1 hour and costs 79 USD. If you want to learn more about something, email me at training@brattoo.com and we'll work out a session just for you.
The free apps section
As I have mentioned in previous letters we have received requests on how to automate some tasks in Apple Photos or tasks related to photos. Those tasks might be tedious to work out manually but are easy for us to solve. The apps include a tool to set the Photos Titles based on the filename (with or without file extension), a tool to copy and apply GPS coordinates between photos, a tool to copy XMP sidecars to image files and finally a utility to set the correct file dates on image files based on the photo date stored in the metadata within the image files. You'll find all our free apps at https://free.brattoo.com.
This newsletter and previous letters
Several of our readers have requested that we resend previous emails so that they could catch up on earlier tips and information. All previous emails are available online in our Newsletter section at https://newsletter.brattoo.com
Upgrades
Finally, I would just like to tell you that our upgrade discount for Duplicate Annihilator for Photos is still available. For only $4.95 you can upgrade any old Duplicate Annihilator license to Duplicate Annihilator for Photos and for just two dollars($2.00) more you can upgrade any old Duplicate Annihilator license to the Duplicate Annihilator Toolbox including a family pack! This means that you get five licenses for you and your family for all versions of Duplicate Annihilator including iPhoto, Aperture, iOS and Photos for only $6.95.
Get the upgrade from: https://upgrade.brattoo.com
Support the creation of these newsletters by becoming a Patreon!
If you enjoy these newsletters and want to support the creation of them, then please consider becoming a monthly contributor by signing up to become a Patreon at https://www.patreon.com/brattoo. Patreons gets access to videos of hints and tips from my newsletters.
Thank you for your time, I hope that you found this email informative. If you have any feedback, suggestions, questions or ideas then please reply to this email. I read all emails and reply to them in person. And, don't forget to stay safe.
Best Regards,
Anders, CEO and Founder, Brattoo Propaganda Software