GPTEverything.
AI coming to Duplicate Annihilator and Photos Finder.
Introducing Photos Clicker.
Improvements to Photos Finder.
Photos and People
Introducing Photos Finder.
macOS 13 Ventura feature "Copy Subject" explained.
Photos 8 – how to set up a shared library
Duplicate Annihilator for Photos v8 released
How to search, filter, suggest and "facet" your search in Photos.
How to work with People/faces?
Metadata, what is it and how do I use and edit it?
Introducing Duplicate Annihilator 7.5.0 including fix for iCloud and missing files.
Introducing Duplicate Annihilator v7 including copy metadata from duplicates to originals.
Smart albums for missing people no longer working
Photos 7 and Live Text
Preserve folder and album structure as keywords
Working with Duplicate Annihilator for Photos – part 3
Working with Duplicate Annihilator for Photos – part 2
macOS 10.5 Catalina, Photos 5 and Duplicate Annihilator v4
Working with Duplicate Annihilator for Photos – part 1
Duplicate Annihilator – HEIC format support
What is HEIC?
Hi,
My name is Anders and I'm the CEO of Brattoo Propaganda Software. In my last newsletter I wrote about Duplicate Annihilator for Photos v7, and the new features that allows you to merge the metadata between duplicates into one original. Since then we have added even more features that I will describe in more detail later in this newsletter. I also have some interesting things about Photos and iCloud, our free apps section and news about Duplicate Annihilator for Finder. I hope that you will enjoy it.
Take care and stay safe.
Duplicate Annihilator for Photos – even more things
When we gave you the option to merge metadata from duplicates into the originals, we decided that perhaps it is a good idea to stop marking the found duplicates by setting the description field. If you made multiple runs, those marks would also be merged and create a mess. So in Duplicate Annihilator for Photos v7.1.0 we changed the default method of marking found duplicates from "Set Caption Field" to "Assign to Album". I know that many of you have missed that option, but it has been there for quite some time and you'll find it in the Duplicate Annihilator preferences: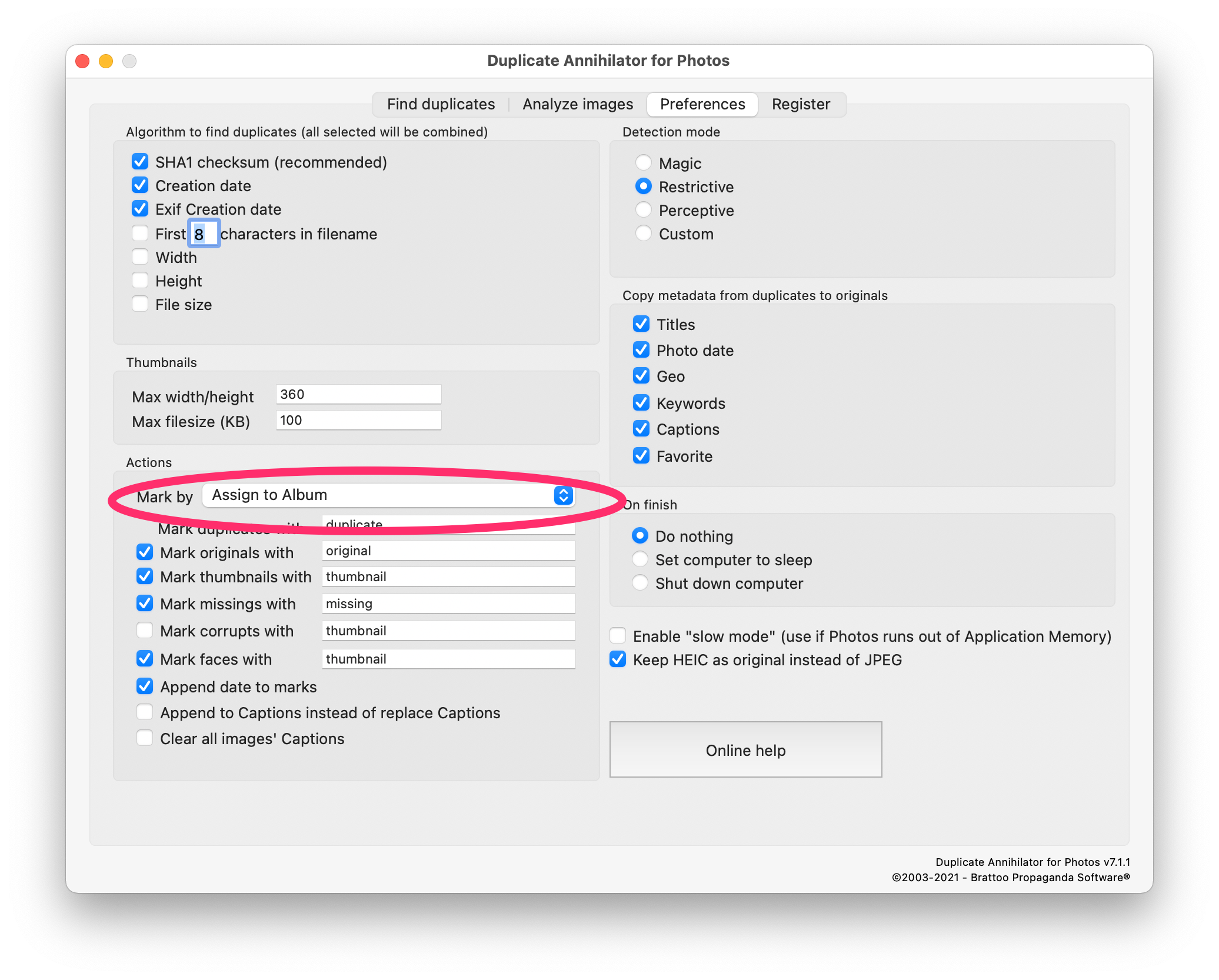 I had a 1 on 1 Training Session with Rick in New Mexico, and discovered something new. Rick scans a lot of photos and he stores them in really low compressed JPEG versions. But then, he decided to recompress all his scanned photos and instead use HEIC (which I had written about in a an earlier newsletter). He used Duplicate Annihilator to get rid of duplicates and keep the HEIC versions instead of the JPEG's. Well as it turns out, the JPEG photos had such a gentle compression that it fooled Duplicate Annihilator into keeping the JPEGs instead of the HEICs. That has now been fixed in Duplicate Annihilator v7.1.2.
Duplicate Annihilator – iCloud and missing files
We have also added some additional features that we have been working on. When running Duplicate Annihilator in Restrictive or Magic mode, the original image files need to be located on your hard drive. Otherwise, Duplicate Annihilator can't access them and thereby not compare them. That seems fair enough, right? The problem is that many of us use a Storage Optimised iCloud Library, meaning that most of your full resolution images are located in iCloud and not on your hard drive. This resulted in Duplicate Annihilator recognizing those images as missing. Missing means that the photo is represented in the Photos database but not on your hard drive.
Well, that has now changed. With the help of some clever fixes, and a little bit of magic we have a solution! Duplicate Annihilator can now look for duplicates among photos, no matter if they are located on your hard drive or only in iCloud, when running in Restrictive, Magic or Perceptive mode. While doing this we also implemented some speed performance updates at about 2X as fast in Restrictive mode and 2.5X as fast in Magic mode. These fixes and features are part of Duplicate Annihilator for Photos v7.5.0 which is available for download today!
Our free tools – optimizing things.
I have often mentioned our free tools section. Here you find small applications built based on customer requests. Until now, we have released them as free tools. However, we get more and more requests, and it is becoming more time consuming to keep them all up to date. So, we have to make some changes. We love to be able to provide our customers with custom tools based on their needs, but we have to be practical. So the plan is to create a new application where we implement all those tools. This will make it easier to build new features, add new functionality and keep things up to date. This will also make it easier and faster for us to implement your requests. This new application will be a payed for app and we hope that you are OK with that.
The first new feature that will go directly into this new application is this: You might have experienced that sometimes Photos seems to never finish downloading photos from iCloud. You might have tried different things such as preventing your computer from going to sleep, making sure that Photos is up and running and leave the computer running over night. Sometimes nothing seems to work!. Well, we have found a way to force Photos into downloading all photos from iCloud, and make sure that all your originals are safely on your computer within your Photos Library.

Large Photos libraries and iCloud – a word of advice
I recently discovered something that can occur when you have a large Photos library which is synced with iCloud. I would like to make you aware of this, since it may affect you when doing things such as merging libraries by using iCloud (as I wrote about in an earlier newsletter). My library is fairly large, just around 1TB and contains about 150.000 photos.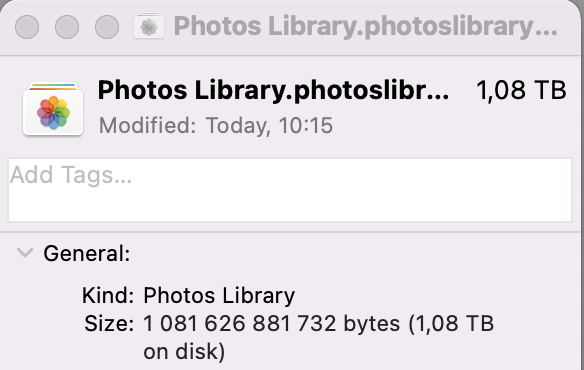 I have a 2TB iCloud account so that is not a problem either.

So I created a new empty library, made it the System library and enabled iCloud for it. Photos started to sync the empty library with iCloud. So far, so good. Then, after just a minute or so I closed the newly created library and deleted it. I reopened my old Photos Library which is previously fully synced with iCloud. I made it the System Library again, and checked the iCloud Library checkbox in the Photos preferences. Now I had a problem.
Photos noticed that my library is over 1 TB on my hard drive, and I only have 840 GB left in iCloud. Photos does not care about the fact that my local library and iCloud contain the same library and the same photos. So what happens? Photos helpfully opens a dialog box and asks me to upgrade my iCloud storage, since it thinks that I need more than 2TB although I don't. The only problem is that there are no options larger than 2 TB so I can't continue.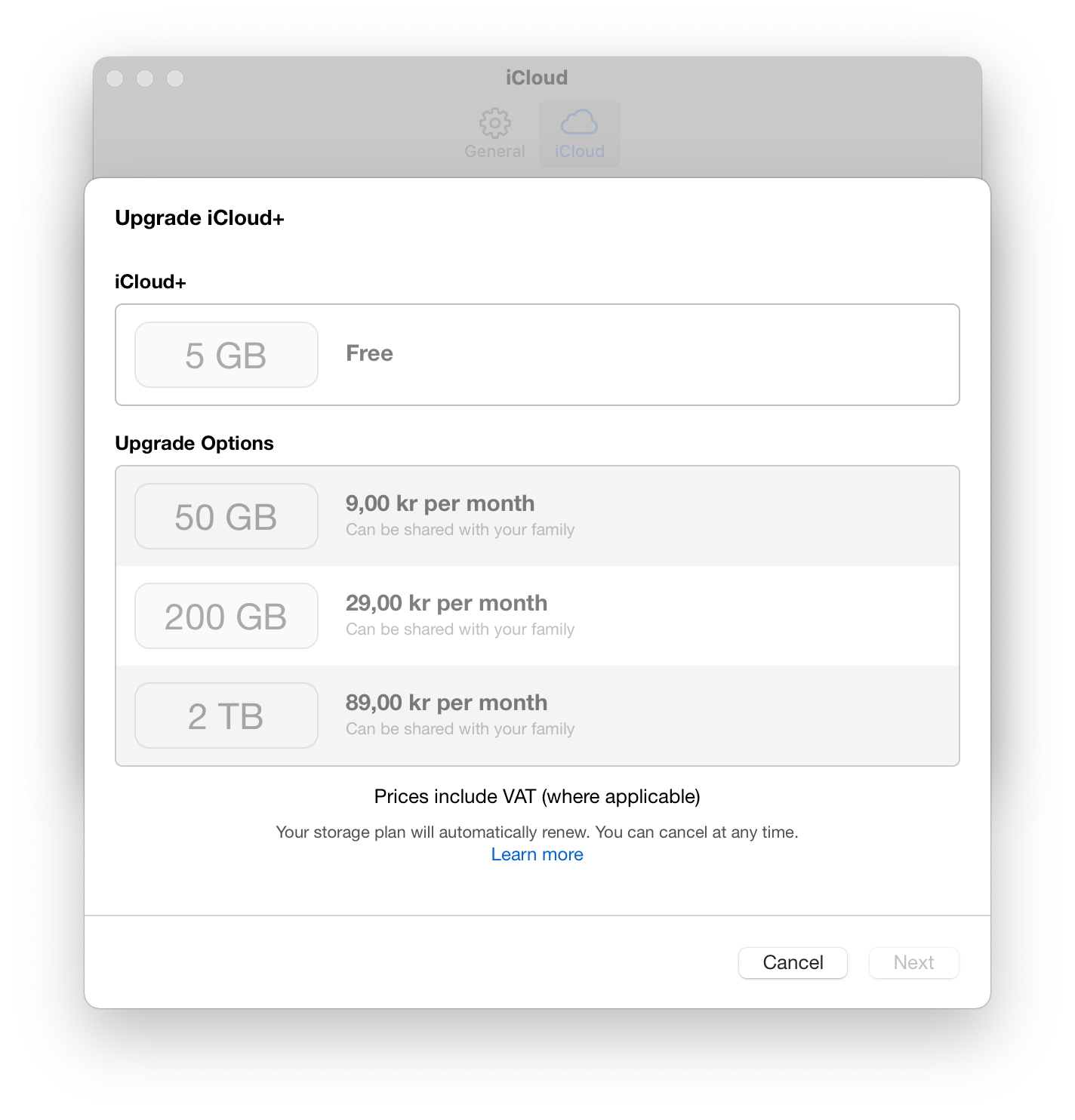 This left me with a Photos library that is already synced with iCloud, but I can't enable iCloud and continue to sync it. So now my only option is to delete my local library, create a new library and download everything once again from iCloud. I would say that this is a bug, and I hope that those of you who work with Photos and iCloud development at Apple read this newsletter and find a solution to this.  So keep this in mind if you have large libraries that you intend to merge or sync with iCloud. You might end up with a library that can't be synced at all.
Duplicate Annihilator for Finder
Yes, it is true. We are working on a version of Duplicate Annihilator for Finder and regular files. We get A LOT of requests for this and we really would like to give you the software right now but… the thing is, writing a program that finds duplicates on your hard drives is really easy. It is about a 15 minute job. But it is also a really powerful and potentially dangerous tool! So, currently we are looking at all kinds of edge cases where deleting duplicates is a really bad idea. We are trying to find a good balance between power and safety.
Deleting duplicates, what could possibly go wrong you might ask yourself. I'll give you some ideas of what might happen.
Let's say that you get a lot of photos of your grandchildren in your email, you import them to Photos. When you run the duplication tool it scans through your home folder. It will probably work through it in alphabetic order so it finds your Library folder, and within that it finds your mail folders and eventually your attachments folders where it finds a lot of photos. Eventually it arrives at your pictures folder where your Photos library is located. The Photos library is actually just a folder, and in that folder it finds the originals folder. The only problem is that the files in the originals folder matches the files in the mail attachments folders, and perhaps the software. Consider the first encountered version to be the duplicate, and if so, you might start to delete photos from your Photos Library. This is bad.
Let's say that when you scan for duplicates you want to be able to scan your whole hard drive and not just your home folder. That seems like the way to do it, right? So we run a de-duplication tool with administrator privileges. Now let's say that you and your wife have user accounts on the computer, but you are both using the same Dropbox account. So the tool scans your entire folder and your Dropbox folder. Then it scans your wife's home folder and her Dropbox folder. Well, you used the same Dropbox account so now all the files in your wife's Dropbox folders are considered to be duplicates since they are also located in your Dropbox folder. Then the tool starts to delete the files in your wife's Dropbox folder. The problem here is that when the files are deleted from her account the changes are synced back to Dropbox and down to your Dropbox folder, and all of a sudden both your Dropbox folders are empty, on all your devices!
As you can see, deleting duplicates in the Finder can be dangerous and we really want to do this right so stay tuned. And yes, both the scenarios above happened when we tried other applications that delete duplicates so be careful.
1 on 1 training sessions
It is indeed great fun to meet you guys in my 1 on 1 training sessions. If you haven't tried, it but feel that it might be something for you, please feel free to email me. The training sessions can be about anything and will be customized based on your requests. I have over 25 years of experience in the Mac platform, I have been an Apple Solution Expert and have held training in various software over the years. Training sessions are on request by contacting me at training@brattoo.com. Each session is 1 hour and costs 79 USD. If you want to learn more about something, email me at training@brattoo.com and we'll work out a session just for you.
The free apps section
As I have mentioned in previous letters we have received requests on how to automate some tasks in Apple Photos or tasks related to photos. Those tasks might be tedious to work out manually but are easy for us to solve. The apps include a tool to set the Photos Titles based on the filename (with or without file extension), a tool to copy and apply GPS coordinates between photos, a tool to copy XMP sidecars to image files and finally a utility to set the correct file dates on image files based on the photo date stored in the metadata within the image files. You'll find all our free apps at https://free.brattoo.com.
This newsletter and previous letters
Several of our readers have requested that we resend previous emails so that they could catch up on earlier tips and information. All previous emails are available online in our Newsletter section at https://newsletter.brattoo.com
License upgrade - final call
In October 2016 we began to offer a discount on upgrades from earlier versions of Duplicate Annihilator to either Duplicate Annihilator for Photos or the Duplicate Annihilator Toolbox. Now after five years we are closing this discount. So if you want to upgrade your old license at a discounted price this is the final call.
For only $4.95 you can upgrade any old Duplicate Annihilator license to Duplicate Annihilator for Photos and for just two dollars($2.00) more you can upgrade any old Duplicate Annihilator license to the Duplicate Annihilator Toolbox including a family pack! This means that you get five licenses for you and your family for all versions of Duplicate Annihilator including iPhoto, Aperture, iOS and Photos for only $6.95.
Get the upgrade from: https://upgrade.brattoo.com
Support the creation of these newsletters by becoming a Patreon!
If you enjoy these newsletters and want to support the creation of them, then please consider becoming a monthly contributor by signing up to become a Patreon at https://www.patreon.com/brattoo. Patreons gets access to videos of hints and tips from my newsletters.
A personal request – penpals wanted
Every now and then I send out personal requests to you and here is a new one. My daughter, 11 years old, studies English at school and wants to have some penpals around the world, so that she can improve her English and find some new friends. Well, if you feel that you know someone who might be interested in having a Swedish penpal then he or she can send a letter or postcard to (as a precaution I won't reveal her name here):
Penpal
Saturnusv. 3b
39351 Kalmar  Sweden
Thank you for your time, I hope that you found this email informative. If you have any feedback, suggestions, questions or ideas then please reply to this email. I read all emails and reply to them in person. And, don't forget to stay safe.
Best Regards,
Anders, CEO and Founder, Brattoo Propaganda Software