GPTEverything.
AI coming to Duplicate Annihilator and Photos Finder.
Introducing Photos Clicker.
Improvements to Photos Finder.
Photos and People
Introducing Photos Finder.
macOS 13 Ventura feature "Copy Subject" explained.
Photos 8 – how to set up a shared library
Duplicate Annihilator for Photos v8 released
How to search, filter, suggest and "facet" your search in Photos.
How to work with People/faces?
Metadata, what is it and how do I use and edit it?
Introducing Duplicate Annihilator 7.5.0 including fix for iCloud and missing files.
Introducing Duplicate Annihilator v7 including copy metadata from duplicates to originals.
Smart albums for missing people no longer working
Photos 7 and Live Text
Preserve folder and album structure as keywords
Working with Duplicate Annihilator for Photos – part 3
Working with Duplicate Annihilator for Photos – part 2
macOS 10.5 Catalina, Photos 5 and Duplicate Annihilator v4
Working with Duplicate Annihilator for Photos – part 1
Duplicate Annihilator – HEIC format support
What is HEIC?
Hi,
My name is Anders and I'm the CEO of Brattoo Propaganda Software. It has been way too long since my last newsletter and I apologize for that. I will not bore you with all the details but let's just say that about everything that has the slightest chance to go crazy has done so, but I'm starting to get back on track again. In my last newsletter I wrote about what is new in Photos 8, which comes with macOS 13 Ventura, and I promised to dive deeper into the new sharing feature in Photos. That is what I will do this time! I hope that you will find this interesting.
Take care and stay safe.
Duplicate Annihilator for Photos – native Apple silicon support
We have received some requests for Duplicate Annihilator to run natively on both the Intel and Mac silicon (M1 and M2) architectures. You that are lucky enough to have M1 or M2 equipped computers  can get the most of it. So we did and Duplicate Annihilator for Photos v8.5.0, and forward will run natively on both CPU architectures. Get it today from https://brattoo.com/#photos.
Photos 8 – setting up a shared library
In Photos 8 we have a new and very much requested feature; the ability to share your Photos library with other persons, including full access to full resolution photos and the ability to add, modify and delete photos. Let's dive into this rabbit hole.
To enable this feature you need to go to your Photos Preferences and select Shared Library. The person who created the shared library is the one who will provide the needed iCloud space, so if you and your family intend to try this and have different iCloud plans it is a good idea to think this through before enabling the Shared Library.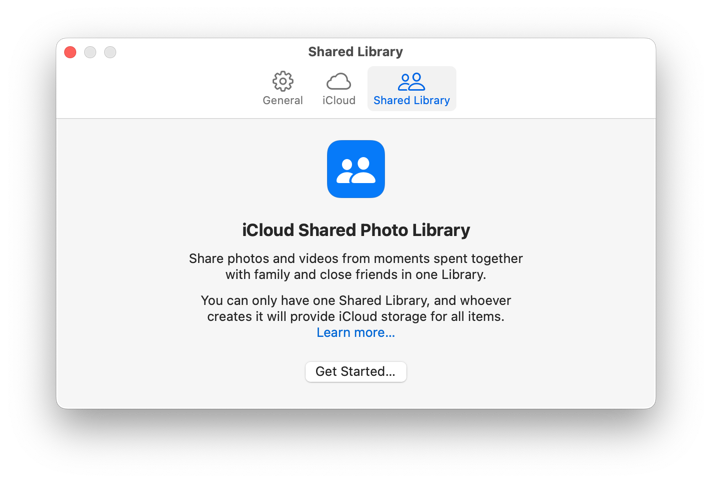 The next step is to add participants to your library, if you are uncertain who to add you can always add people later.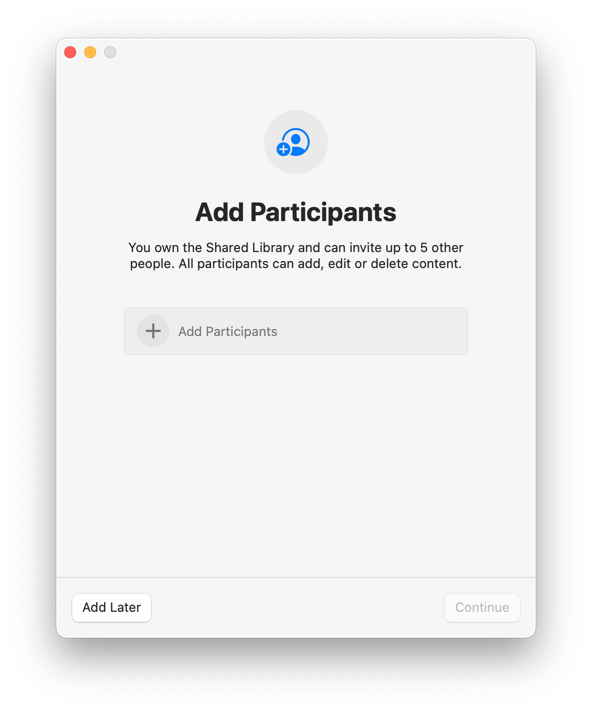 When you have added the participants, it is time for the next step and that is to select which photos to be moved to the shared library.  Yes, that is right, they will be moved and initially that will look and feel really strange, especially if you have put a lot of work into organizing them into folders. So what will happen is that a new library (the shared library) will be created that lives next to your personal library.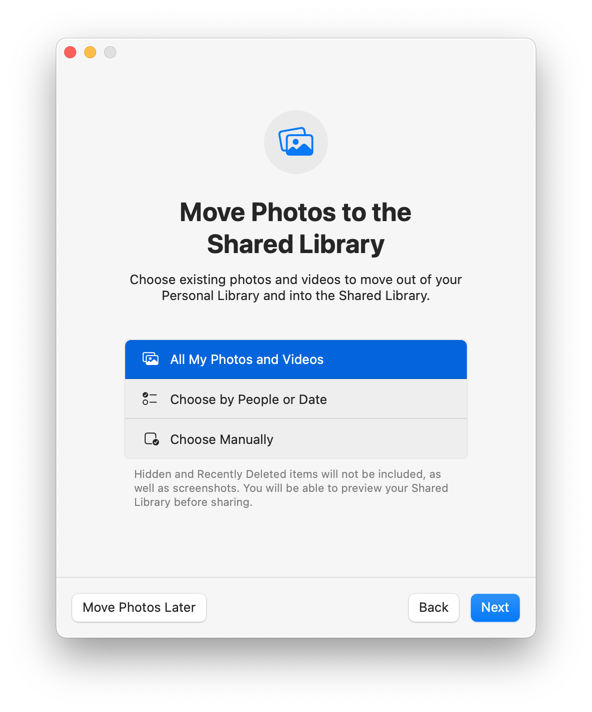 When you move, you can choose one of the options which includes moving all your photos, move photos based on people or dates or choose them manually. Let's start with "Choose manually". When you do this a new window will appear that looks exactly like your Photos library (but with fewer functions). Here you can browse your library and albums and select photos one by one. Yes, only one by one, you can't use shortcuts like select all or the shift key to select batches. When you have selected your Photos you click on the "add" button (which should read "move") in the lower right corner and the selected photos are moved from your personal library into the shared library.
Below you can see a screenshot of my library on the left and the new "choose manually" photos picked on the right. Confusing?
Let's have a look at the other option; to select photos based on people. Here I found something interesting, that is that it tries (by default) to search for photos based on the person that I have shared the library with. But as you can see in the screenshot below, it finds zero matches. This might explain why you have been giving suggestions from your address book when identifying persons in the people view in the Photo application.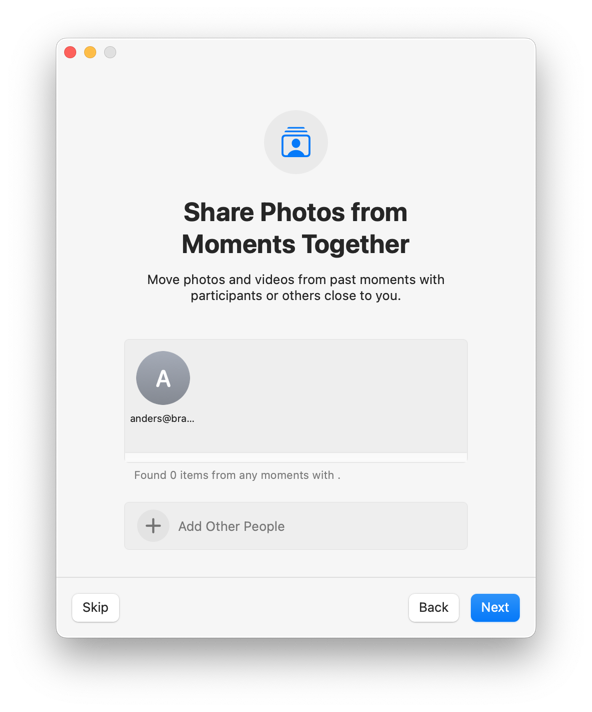 So I ignored this, and clicked on "Add Other People" and was presented to this view: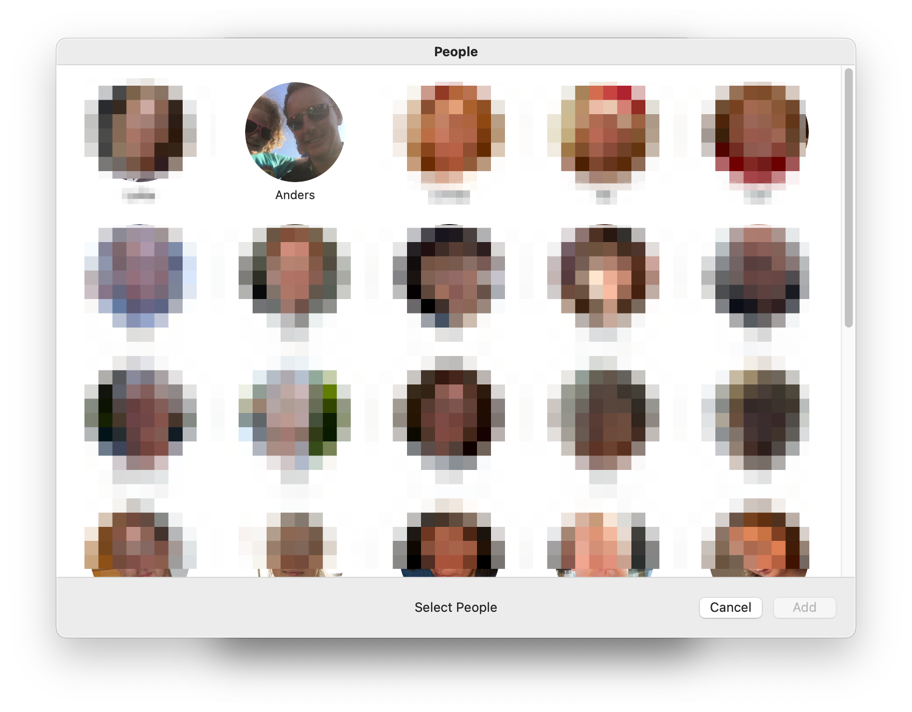 Now I had selected one person and everything seemed like it should work: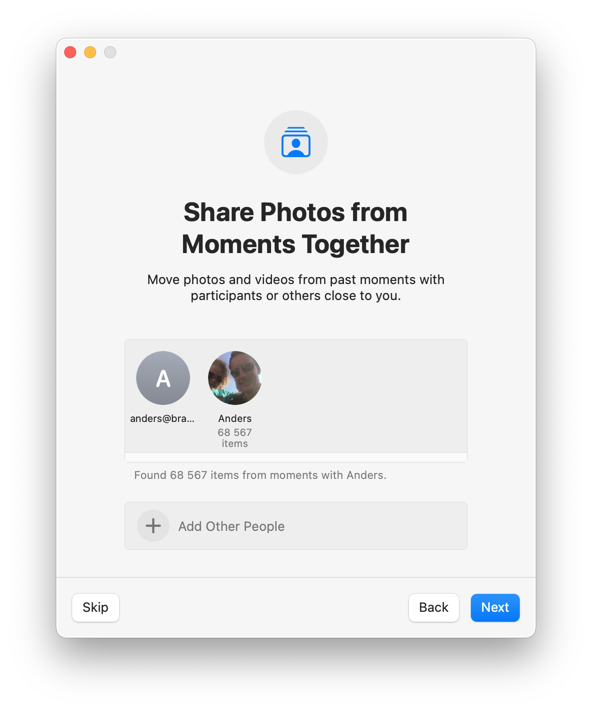 But no, it didn't work. Photos requires that unknown persons are identified with a person in your library.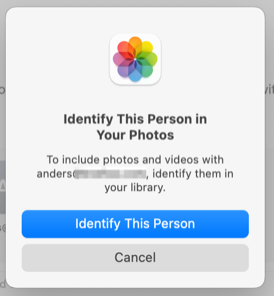 So, I had to delete the unidentified person, or match it with a person in the people section. Another interesting aspect to this is that, as you can see in the screenshot above the person, Anders is associated with 68567 items. However, in the Photo library people section, that person is only associated with 13058 photos and 141 videos. Where the additional 52k photos comes from I don't know, but it indicates that something is slightly wrong here.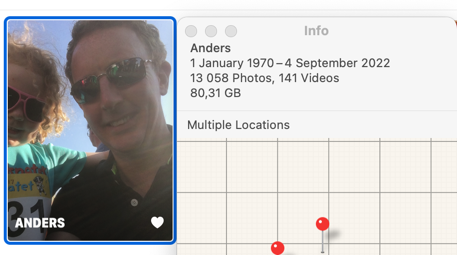 How can this be? Well, pay close attention to what the previous dialog box actually says. We don't share the photos of the person, we share photos from moments where those selected persons are represented.

Anyway, at this stage you can also add a date filter to the selected persons, to only share more recent photos. It seems that this can only be done at this stage, and not if you try to add persons from the people section later.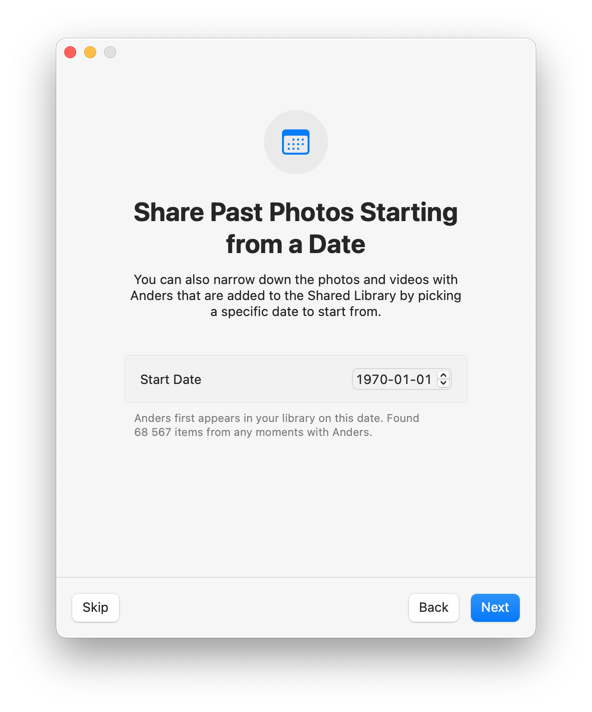 When you are finished selecting photos, you will be given the option to preview the shared library before sharing. An interesting thing is that now that number of selected photos and videos has changed again, increasing another 422 items!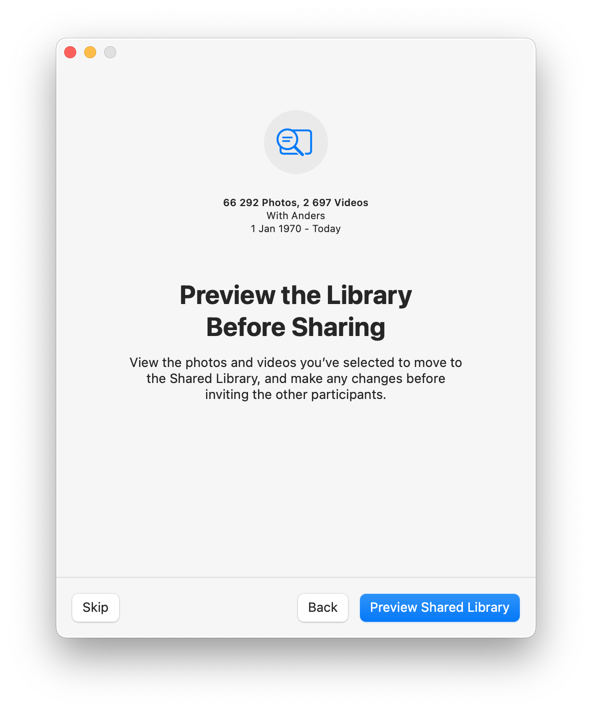 When we preview the new shared library we can, again, clearly see that it has chosen photos based on moments where I took part and not only photos that I'm in. By using the selector at the top (circled in red) you can choose which version of the library you want to see, your personal, the shared or both. Both libraries means that you are shown a combined version of the personal and the shared library. I will get back to why this is important to know.  If you are happy with the result then you click on the Continue button on the top right.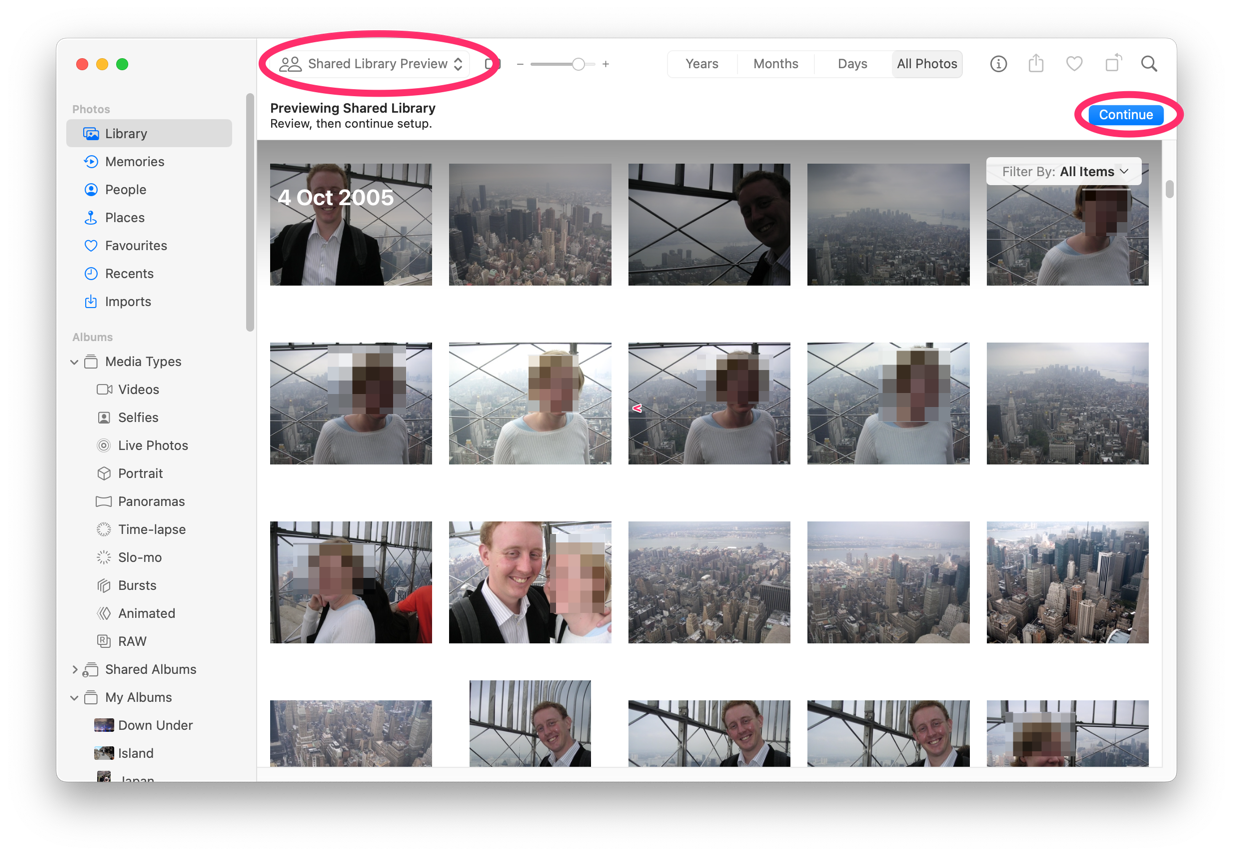 So now we have a shared library which is great, but it is also time for our first panic attack. If you have spent time organizing your photos into albums, and start to browse them you might feel like you want to faint when you see things like this. My album of one of my trips suddenly only contains 53 photos!  There should be over 1K.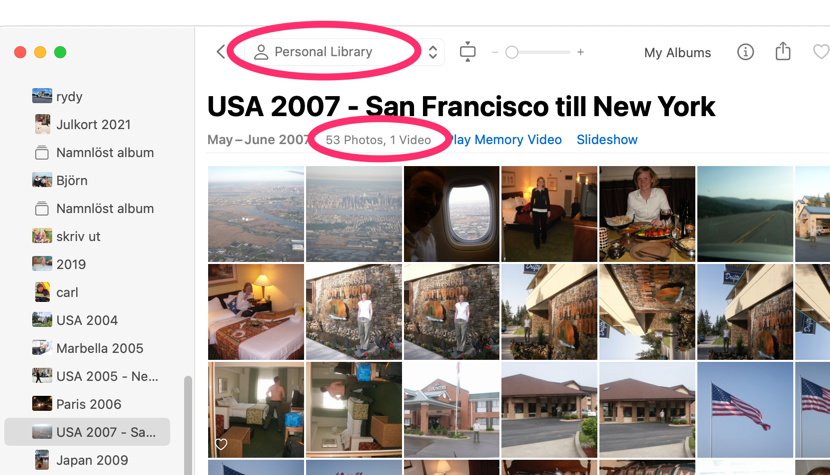 Your first thought might go something like, "What have I done!?" and you try to remember when you made your last backup. But try to stay calm, remember that selector that says "Personal Library". Let's change that to something else like "Shared Library":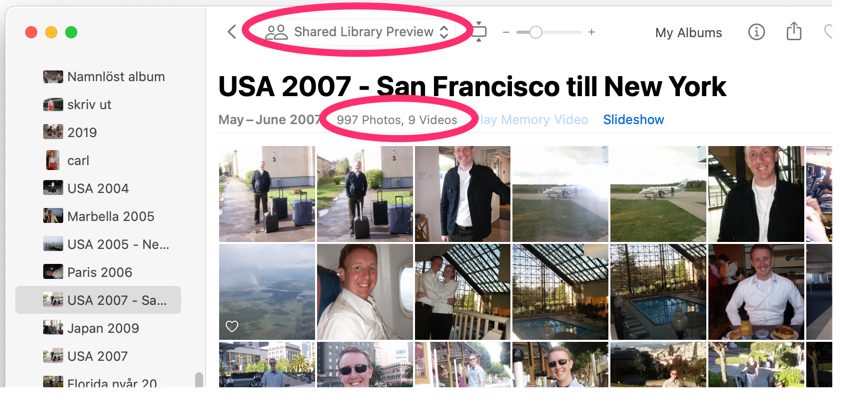 Phew! The rest of my photos are there but now it seems as if I have two versions of my album and both are incomplete! Let's set the Library selector to "Both" and there we have them. All my albums as they where before!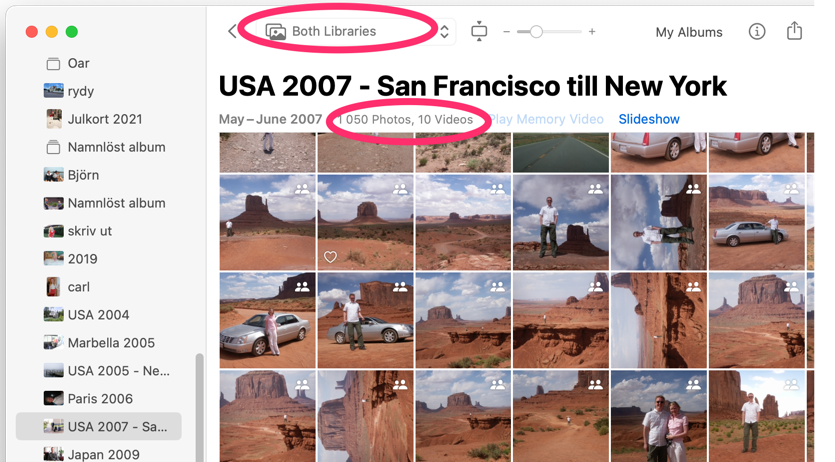 Shared Library – adding additional participants
So now we have a shared library, and perhaps you want to add additional participants. You can add up to five participants to your library so let's do it. To add a person go to the Photos Preferences and click on Shared Library and then on Add Participants.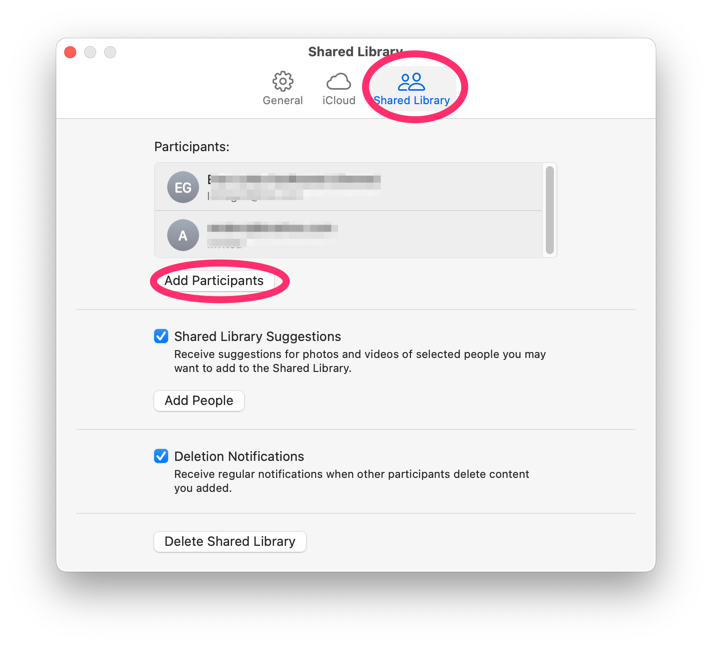 When the person is added you will be give the option to send an invitation either by messenger or by copy a link: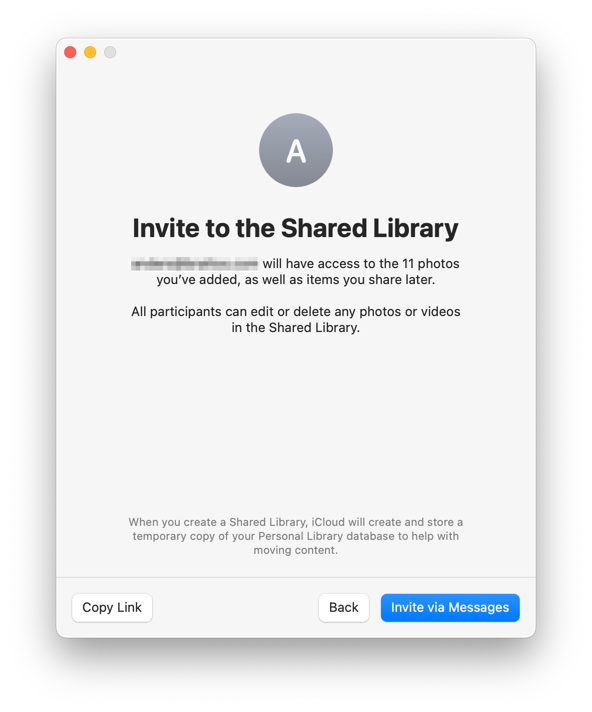 The default choice is to send by Messages, for it to work you need to have an account in your Messages application, it is usually your iCloud account. If you don't have a Messages account you are left with the copy link button. If you send the link by email it seems to work if the participant clicks on it, but if the link is pasted into a browser window it does not work which is a bit confusing.
If the invite was sent to the email address that is the participants iCloud account then the invitation will appear in the participants Photos application and it will look like this:

The invitation can also be found in the Photos preferences: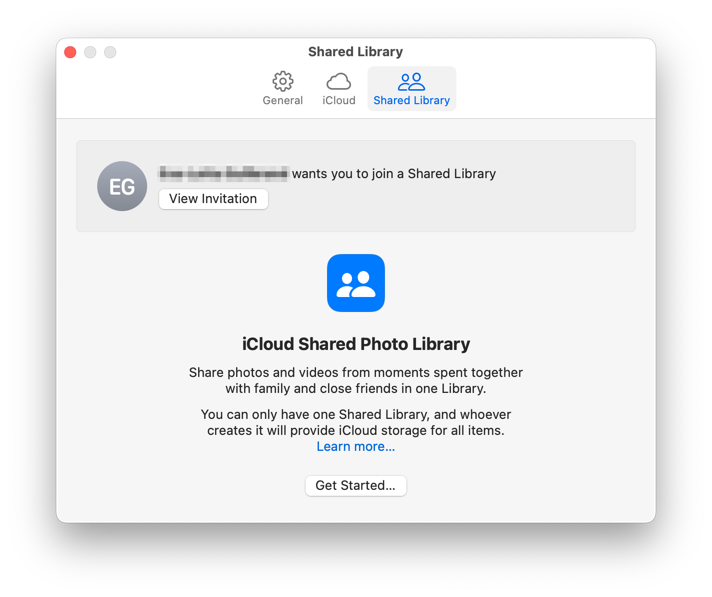 When you view the invitation you are given the option to move photos from your library to the Shared Library as described earlier, when that is done the library will start to sync with the Shared Library.
Shared Library – adding photos
When you are sharing a library or participating in a shared library it is really easy to move additional photos to the Shared Library simply by making a selection, right click on it and choose Move to Shared Library.
Shared Library – conclusions
The ability to share a Photos Library is probably the number one question that I get, and I'm glad that Apple finally decided to implement it. It is a bit cumbersome, and can be a bit hard to grasp, so I'm not sure that it is the perfect implementation. There are some weird things, like the photos picker dialog box described above, and that Shared Libraries was enabled in very late versions of the beta version of macOS for developers, which indicates that this is something that is a "work in progress" at Apple. I predict that we will see a lot of improvements in future versions.
There are some limitations as well, such as the five person limitation and also the limitation that you can only participate in one shared Library, regardless if you share the Library or if you participate in a shared Library. Let's say that you have kids and grandkids and want to share your Library with your kids. Great, you can do that but if they have their own shared libraries within their families then it can't be done.
This also raises questions of what happens to the contents of Shared Libraries if you decide to join another Shared Library. Will the photos you have added to the first library by kept in that Library? Will the Photos in the Shared library be synced with your personal library and then again synced with the new library that you join? What happens if the iCloud account that shared a Library is closed for some reason, and you are a participant of that Library but not the owner? Will the photos that you have shared from your library be deleted, since the photos in your library have been moved to the shared library that has now been closed? So many questions left! I think that I will have to adress them in a future newsletter.
1 on 1 training sessions
It is indeed great fun to meet you guys in my 1 on 1 training sessions. If you haven't tried, it but feel that it might be something for you, please feel free to email me. The training sessions can be about anything and will be customized based on your requests. I have over 25 years of experience in the Mac platform, I have been an Apple Solution Expert and have held training in various software over the years. Training sessions are on request by contacting me at training@brattoo.com. Each session is 1 hour and costs 79 USD. If you want to learn more about something, email me at training@brattoo.com and we'll work out a session just for you.
The free apps section
As I have mentioned in previous letters we have received requests on how to automate some tasks in Apple Photos or tasks related to photos. Those tasks might be tedious to work out manually but are easy for us to solve. The apps include a tool to set the Photos Titles based on the filename (with or without file extension), a tool to copy and apply GPS coordinates between photos, a tool to copy XMP sidecars to image files and finally a utility to set the correct file dates on image files based on the photo date stored in the metadata within the image files. You'll find all our free apps at https://free.brattoo.com.
This newsletter and previous letters
Several of our readers have requested that we resend previous emails so that they could catch up on earlier tips and information. All previous emails are available online in our Newsletter section at https://newsletter.brattoo.com
License upgrade - final call?
It was supposed to be the final call for discounted upgrades and we did discontinue it for a short period but received so many requests so we decided to open it up again. After all, we do try to be nice guys.
For only $4.95 you can upgrade any old Duplicate Annihilator license to Duplicate Annihilator for Photos and for just three dollars($3.00) more you can upgrade any old Duplicate Annihilator license to the Duplicate Annihilator Toolbox including a family pack! This means that you get five licenses for you and your family for all versions of Duplicate Annihilator including iPhoto, Aperture, iOS and Photos for only $7.95.
Get the upgrade from: https://upgrade.brattoo.com
Support the creation of these newsletters by becoming a Patreon!
If you enjoy these newsletters and want to support the creation of them, then please consider becoming a monthly contributor by signing up to become a Patreon at https://www.patreon.com/brattoo. Patreons will get access to my monthly zoom get together where we can ask questions and learn new things related to Photos and Duplicate Annihilator.
Thank you for your time, I hope that you found this email informative. If you have any feedback, suggestions, questions or ideas then please reply to this email. I read all emails and reply to them in person. And, don't forget to stay safe.
Best Regards,
Anders, CEO and Founder, Brattoo Propaganda Software